5 Points of Light Conference 2023 Sessions That Will Keep Your Social Impact Work on Trend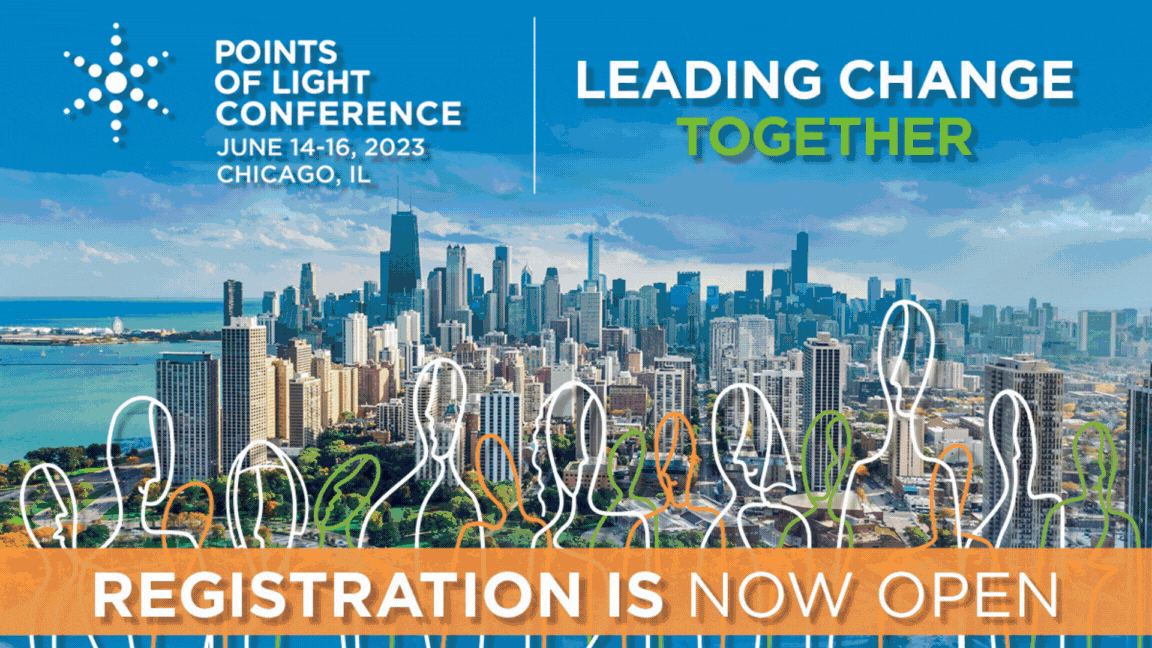 The Points of Light Conference is a gathering for social impact professionals who are passionate about civic engagement. It empowers nonprofit, government, business and civic leaders to make a bold impact in their communities, providing the resources and inspiration to do so.
Join us June 14-16, 2023, in Chicago to experience more than 50 workshops with actionable takeaways led by industry experts, four keynote and panel discussions, compelling leadership discussions highlighting best practices and connection with fellow changemakers ready to collaborate and amplify your efforts.
Here are five sessions at this year's conference that will give you winning strategies, shape the future of CSR, and help save $2 Trillion.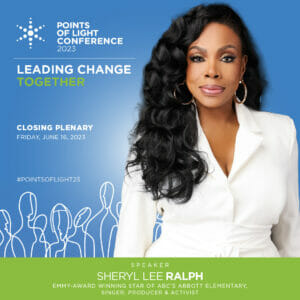 Join Sheryl Lee Ralph, Emmy-Award Winning Star of ABC's Abbott Elementary, singer, producer and activist. She'll talk about the power of using your voice and tapping into joy to overcome obstacles and facing challenges with positivity. She'll share insights about the ways that people are looking within themselves for creativity, imagination and lasting energy to make real, sustainable change.
The Civic Engagement Leadership Summit is a dynamic session designed specifically for leaders of nonprofit organizations preparing their organizations for growth and mission success. Attendees will explore how to address complex topics through advocacy, theatrical leadership and the role of the arts as a platform for promoting the well-being and resilience of people and communities. Attendance will be limited, nonprofit leaders must apply after registering for conference.
What does it mean to serve on a nonprofit board? Benefits to the nonprofit, employee and company can look different, and companies need to find clarity as they prepare their goals and develop a strategy for internal buy in with their nonprofit board service programs. Companies must have a clear vision of how board service helps both internally and externally with their greatest asset: their employees.
This session with Takita Battle will focus on benefits to companies and the nonprofits they work with as they collaborate. The time is now to start thinking and reimagining your Nonprofit Board service.
Join Anu Gupta and Caroline Horste for this discussion on the benefits of building equity within corporations. Social scientists show that racial inequity costs our economy more than $2 trillion annually, and that number doesn't account for the tremendous suffering it creates in our workplaces and communities.
At a time when diverse communities are drifting farther apart, businesses are uniquely positioned to heal the divides while strengthening their bottom lines. In 2022, BE MORE with Anu, a corporate diversity, equity, inclusion and belonging (DEIB) e-training company, established an exclusive partnership with B Lab US & Canada to oversee their network-wide DEIB learning journeys. This partnership with B Lab represents the first full-scale, multi-national DEIB initiative available to all interested companies who have publicly committed to "being a force for public good."
In this session you'll learn how CSR professionals and impact-driven corporations can use this case study to adapt a strategic roadmap for partnerships.
Corporate Social Responsibility has never been more important or intrinsically linked to business success. Yet, the work is changing rapidly in terms of nomenclature, strategy and who a CSR professional needs to partner with.
Join Lacey Gaitan for this session looking at the trends that are most significantly shaping the future of CSR and the everyday work of CSR & ESG professionals. We'll explore social issues and advocacy, tying CSR to ESG, engaging employees in CSR decisions, equity/trust-based philanthropy, increased collaboration across the organization, growing emphasis on sustainability, increased reliance on data and storytelling and the new volunteerism landscape.
If you haven't yet registered for the Points of Light Conference 2023, head over to our conference page now. Regular registration closes on May 31, so don't wait!
Share this post