5 Selfish Reasons to Volunteer
This post is by Marianne Stenger, a writer with Open Colleges, an Australian online education provider. You can find her on Google+ and Twitter, or view her latest articles here.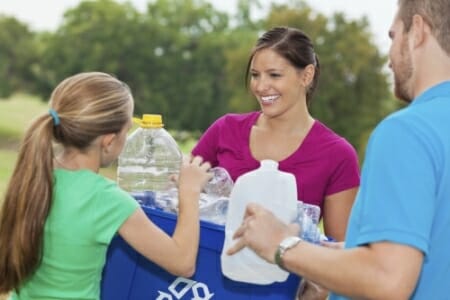 Volunteering tends to be viewed as the ultimate selfless act – after all, you're giving up your own time and resources to help others without receiving anything tangible in return.
But a growing body of research suggests there are actually numerous social, physical and psychological benefits to be gained from charitable pastimes.
Of course, most people don't set out to volunteer with personal gain in mind, but if you ask any volunteer about the motivation behind their selfless acts, they'll tell you that they've gotten so much more back than they ever gave.
So what exactly is it about volunteering that makes it so satisfying? Here are five selfish reasons to give up your time without any expectation of monetary reward.
It can keep you physically fit.
A study led by the Rotman Research Institute showed that volunteering can lead to a number of positive physical outcomes such as greater happiness, better overall health, and fewer functional limitations.
Research from the University of Wales also found that people who volunteer on a regular basis tend to live longer than those who don't – likely because they tend to be more physically active, but also because they often live a healthier lifestyle.
For instance, the report showed that smokers who volunteered in stop-smoking services later gave up smoking themselves, and students who volunteered drank less than those who didn't.
It can help ward off depression.
Numerous studies have shown that when people volunteer their time, they tend to feel more socially connected, which can help to ward off loneliness and depression.
The University of Wales research also showed that volunteers had improved self-esteem and sense of purpose, which can also have a positive effect on a person's mental health.
It can motivate you academically.
More and more students these days are choosing to take time off from school to combine travel with volunteer work. And although parents often worry that this will get in the way of their studies, research shows that these students are actually more likely to attend college after their time off.
One study in particular found that students who took a gap year before starting their tertiary education were more motivated during their college years than those who had jumped straight into their studies after high school.
It can benefit your career.
Volunteer experience looks good on your resume and can enhance your career prospects.
If you've just graduated from college, spending some time volunteering will provide you with valuable working experience and can help your resume stand out. For students, it can also be a good way to gain community service hours for university courses.
And, if you're between jobs and the job hunt is taking longer than expected, volunteering can help prevent too many gaps from forming in your work history.
It can be a great way to make new connections.
Research by Gary Gregory, senior lecturer and undergraduate program coordinator at the Australian School of Business, indicates that for both older and younger volunteers, making new social connections is a big motivator.
Older females, particularly empty nesters or retirees, often volunteer as a way of keeping busy, meeting and interacting with new people, and also giving something back to the community.
For younger volunteers who aren't in their careers yet, social groups are very important. Volunteering gives them a way to be in a group, meet people who share similar interests, and make valuable social connections that will help them later on in life.
This post originally appeared on the Career Break Site blog.
Share this post