The Warm Embrace of Community
This post is by Alex Roth-Kahn, managing director of the Caring Commission at UJA-Federation of New York, a philanthropic organization that funds a network of nearly 100 beneficiary agencies to help care for New Yorkers of all backgrounds and Jews everywhere.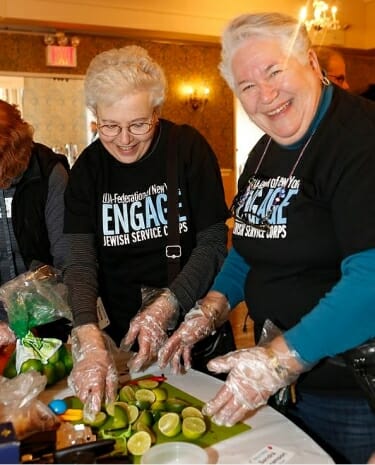 Volunteers Elaine Good and Sandra Abramson help package bags of food for people in need at the Union Temple of Brooklyn on Martin Luther King, Jr. Day.
At UJA-Federation of New York, we wanted to think about volunteer engagement in radically new ways.
Our organization strives to build a community in which individuals experience both a sense of belonging and a sense of responsibility. To achieve this, we inspire the Jewish community to make a collective commitment to volunteering and engage in acts of caring throughout our region. This ensures that those struggling with life's challenges feel the warm embrace of the Jewish community.
We knew an important first step to engaging more volunteers at our nearly 100 beneficiary agencies was to invest in the capacity of select organizations to engage volunteers in their critical work.
We wanted to ensure that our beneficiary agencies had the tools and systems to handle an influx of volunteers as well as a mindset that welcomed volunteers as service providers.
So we reached out to Points of Light to participate in the Service Enterprise Initiative (SEI). We needed a model that emphasized the regular engagement of volunteers and their skills, beyond days of service and collection drives.
We liked that the Service Enterprise model elevated the role of volunteers so they were part of a holistic care continuum of paid and unpaid team members.
We were also impressed with the peer-learning component of SEI. By learning together, our beneficiary agencies were inspired by each other to find solutions to challenges, think creatively, and be proactive in their planning. They also came away with a stronger sense of being part of a movement.
The Service Enterprise model has helped us lay the groundwork for our next steps of encouraging the Jewish community to volunteer more.
By investing in the SEI and providing additional grants to our beneficiary agencies for implementing the model, we believe we will have more meaningful service opportunities and an improved service experience available when we issue a call to action.
It's an exciting and innovative approach we recommend to other federations or community funders that are looking to inspire individuals to help address community challenges. The SEI has helped us create a space for professionals in the field to envision things differently. To make that vision a reality though, it has been incumbent upon us to serve as a thought leader and funder in the process.
Change is difficult, but the combination of our federation assets and the SEI approach has made important changes possible. We are eager to move forward and reach more people with services and the warm embrace of our community. A community that says: "You matter. You count. You're just like me. We come from the same places and we're headed for the same future."
Share this post