Youth Turn Messages of Joy and Peace Into Action That Serves Others
Teaching children about giving requires some time and creativity, especially in communities where that may be all children have to give.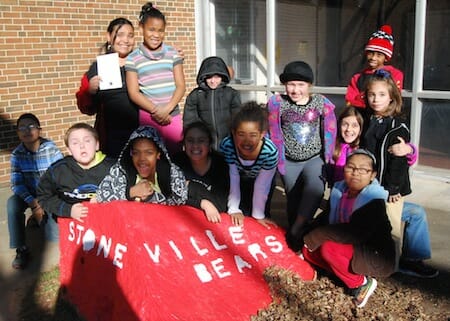 Members of the Stoneville Elementary School Kids Care Club show their school spirit with the "spirit rock" they painted.
Teachers at Stoneville Elementary School in North Carolina knew many of their students would be lucky to get their own gifts this past holiday season.
"Our school is located in a rural, low-income area of Rockingham County," said music teacher Renee Halpin. "Asking students to bring in money to donate for any service project would place a strain on many of the families in our school community."
At Stoneville Elementary, Halpin sponsors the Kids Care Club, an afterschool program that is dedicated to community service and is part of the generationOn Clubs network. When looking for a holiday service project, she came across The Joy Maker Challenge website created by generationOn, the youth service division of Points of Light.
"The challenge gave us the perfect means to donate new toys to needy children by using the two resources we can afford – time and talent," she said. "To hear them verbalize their wishes to bring joy to children who are experiencing some of the same hardships they are or have experienced was truly amazing. It was also refreshing to see how they transformed from 'I want' to 'I want to give.'"
That's what The Joy Maker Challenge is all about.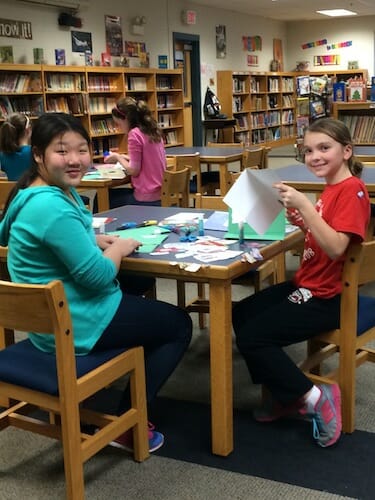 Members of the South Range Elementary Kids Care Club make holiday cards for a nursing home during the Joy Maker Challenge.
Organized by generationOn, with generous support from Hasbro, Inc., The Joy Maker Challenge is a month-long effort that turns acts of youth service into presents for children in need.
For the 2014 challenge, Hasbro pledged to donate a toy or game to Toys for Tots – which distributes holiday gifts to children whose families can't afford them – for each action taken by a child or teen to help others. That pledge amounted to donations worth $1 million.
During the 2014 holiday season, more than 128,000 students from kindergarten through 12th grade participated in service projects across the country. Projects ranged from participating in food drives, literacy campaigns or community cleanup projects to making holiday crafts for the elderly.
Some projects directly benefited kids within the participating communities. At Tanglewood Elementary School in Fort Worth, Texas, the entire student body and staff collected gift cards, funds, clothing and a Christmas tree on behalf of two classmates who lost their home and possessions in a fire.
"The stories of youth in action were remarkable," said Karen Davis, Hasbro's senior vice president of global philanthropy and social impact. "The inspiration from these young leaders brings the joy of the holiday season to life."
In addition to the donations to Toys for Tots, Hasbro gave $250 grants to 20 participating schools, chosen at random, to support continued youth service in their communities.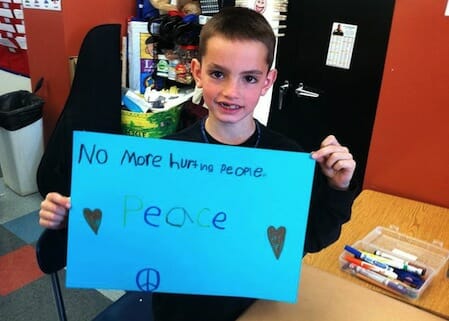 Martin Richard, the 8-year-old killed during the Boston Marathon bombing, holds up a sign he made that reads, "No more hurting people. Peace."
A randomly selected, grand prize-winning school, South Range Elementary in Derry, N.H., received $10,000 worth of toys and games that it donated to the Salvation Army, as well as a $1,000 grant to support the school's engagement in volunteer programming and a special celebration party.
In Derry, members of South Range Elementary's Kids Care Club hosted a number of projects over the holiday season. In early December, the children made several fleece blankets, which were distributed to the town's Community Fund and given to citizens in need. The students also made several handmade holiday cards for a local nursing home.
"It turned out to be really nice just watching the kids working so hard," said Kyle Sachs, a librarian and sponsor of the Kids Care Club at South Range.
After they were announced as the grand-prize winner of the Joy Maker Challenge, members of the Kids Care Club went to the Salvation Army to pack gift bags with toys donated from Hasbro.
Sachs said she'll never forget the reaction of one 9-year-old girl at the site of stacks and stacks of boxes of donated toys.
"We were just walking, and we saw all these toys and boxes and she just said, 'I'm just so excited! We're helping so many kids!'" Sachs said. "She was so excited to see all this even though she wasn't getting anything material out of it."
Supporting The Joy Maker Challenge is just one way Hasbro has enhanced generationOn's work to ignite the power of kids and teens to make their mark on the world. As a founding partner and lead investor in generationOn, Hasbro supports expanding generationOn youth volunteer service clubs nationwide; developing tools and resources for teachers, families and nonprofits; and running campaigns and programs focused on youth service. One such program – the Hasbro Community Action Hero Award – recognizes young people as volunteer leaders and social entrepreneurs.
In 2015, Hasbro is building upon its commitment to youth service through a new campaign with generationOn. The Martin Richard Bridge Builder grant program will award $500 grants to support 30 young leaders who will promote peace and kindness in their communities.
The program is named in memory of 8-year-old Martin Richard, who was killed in the Boston Marathon bombing on April 15, 2013. Martin was known in his community for his compassion and peace-building skills on the playground, in his neighborhood and at school.
Martin's parents, Denise and Bill Richard, formed the Martin Richard Foundation in 2014 to honor their son's memory and message of peace. The foundation is collaborating with generationOn and the Hasbro Children's Fund on this effort.
"By encouraging kids to pay attention to what is happening around them, we can help shape attitudes of tolerance and kindness," said Denise Richard. "We try to teach our own kids that they are not too young to lead by example."
Ten projects will be developed into project guides and three of the best submissions will be turned into public service announcements – to inspire other kids and teens to take action.
"Martin recognized at a very young age the importance of teaching people kindness and togetherness," said Davis. "We are able to honor Martin's impactful message and help our youth create positive change nationwide, at a time when we need it most."
Share this post