`Some Kids Feel Powerless' – But Not These Kids
This post is by guest contributor John Porter.
The brother and sister duo of Cole and Logan Layman, collectively known as In Layman Terms, are a powerful musical force with a bright future ahead of them. And they're using their talents to help make the world a better place.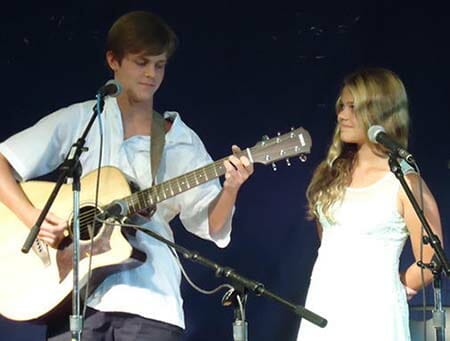 From left, Cole and Logan Layman
"For the past seven years," says 17-year-old Cole, "we have been involved with Kids Care Clubs and generationOn, a global service movement utilizing the power of all youth and encouraging them to make their mark on the world. Under their umbrella, we have started an organization that we call the HArt Squad."
Cole and Logan describe the HArt Squad ("Hart" stands for Healing Arts) as a group of teenagers with a passion for the arts. They get together to raise the spirits of people with physical, emotional or other challenges through live, interactive music and performance arts. The group also collaborates with other organizations to run projects for people in rehabilitation facilities, shelters, hospitals, nursing homes and other venues.
"It just feels so good to bring smiles to their faces," says Logan.
Service is highly important to the Layman family, of Williamsburg, Va., where father Doug is a Coast Guard officer and mother Sandra is a special education teacher.
Sandra discovered Kids Care Clubs while searching online for service opportunities for the family.
"I was teaching at a school down the road from our home in Tampa, Fla., at the time," says Sandra, "Both kids attended the school. We organized a club called Paws for Peace. Cole was 9 and Logan was 6."
When the military moved the family to the Washington D.C., area, the Laymans started a Kids Care Club at the elementary school they attended in Vienna, Va. Over the years they have used their talents, musical and otherwise, to raise money for a number of causes.
Logan, now 14, has channeled her songwriting abilities into a song, "Won't Let It," which deals with a friend's experiences with cancer. (Watch the video here.)
"Everybody can utilize their strengths and talents to help others," she says. "Some kids feel powerless, but all you have to do is take that first step and you'll realize that we can accomplish anything."
"Won't Let It" is available for download on iTunes here; all proceeds go to the American Cancer Society. For more about In Layman Terms, visit www.3inlaymanterms.com, or check out the HArt Squad on Facebook.
Share this post