5 Ways to Serve on MLK Day
How will you make the Martin Luther King, Jr. Day holiday a day on instead of a day off? Join millions of Americans across the country on Jan. 18 for volunteer service and dialogue to honor Dr. King's memory.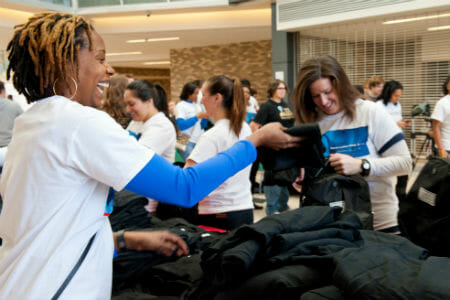 MLK Day of Service volunteers assemble care packs for wounded veterans.
Here are five ways you can get involved on the MLK Day of Service:
1. Volunteer – No act of service is too small to make a difference. Use this MLK Day volunteer search to find opportunities in your area.
2. Host an America's Sunday Supper – Inspired by the legacy of Dr. King, America's Sunday Supper invites people from diverse backgrounds to come together to share a meal, discuss issues that affect their community and highlight the power each one of us has to change lives. Pledge to host your own Sunday Supper. We have lots of resources and tools to help you in our America's Sunday Supper Cooking and Conversations Guide and marketing toolkit.
3. Get your kids involved – Volunteering as a family is a special opportunity to bond, create memories and help others. Include your kids in your MLK Day service plans with these ideas from generationOn, Points of Light's youth service division.
4. Use your skills – Volunteer to take part in a ServiceWorks bootcamp to teach young people workforce skills. With help from volunteers like you, the MLK Day bootcamps will give 16- to 24-year-olds valuable exposure to critical workforce skills, such as effective communication, resume building, project management and networking.
5. Honor a volunteer – Recognize volunteer leaders with the MLK Drum Majors for Service Award. This special President's Volunteer Service Award honors volunteers who perform extraordinary everyday acts of service.
For more about the MLK Day of Service, please visit www.pointsoflight.org/mlk or www.MLKDay.gov.
Share this post