Help Create a 'Beloved Community' on MLK Day
This post, which originally ran on the Corporation for National and Community Service blog, is by Malikah Berry, senior vice president of programs at Points of Light.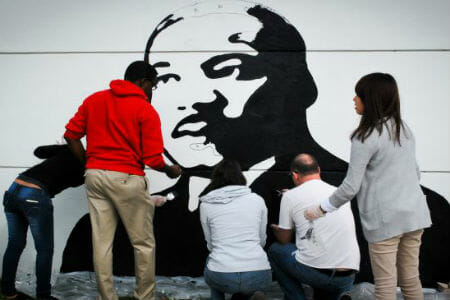 Millions of Americans will come together during the Martin Luther King, Jr. holiday, in a weekend of service and dialogue to honor his memory.
The civil rights movement taught us that when Americans are united in lending a hand, helping our neighbors and building better communities, our country lives out Dr. King's ideals and can fully realize the American dream.
On this holiday, volunteers inspired by Dr. King serve each other in hopes of creating what he called the "beloved community."
Points of Light – the world's largest organization dedicated to volunteer service – invites you to join your neighbors and get involved on the King holiday. Here are five ways.
With a grant from the Corporation for National and Community Service, Points of Light is supporting MLK Day volunteer activities run by 13 nonprofits across the country. If you live nearby, we hope to see you there: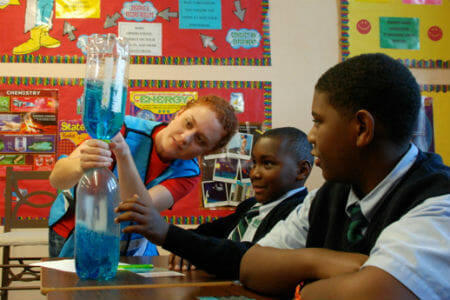 Global Citizen of Philadelphia will unite the tristate area (Pennsylvania, New Jersey, Delaware) for the 21st annual Greater Philadelphia King Day of Service, bringing together 135,000 volunteers at some 1,800 projects, including collecting, sorting and packing donated business attire for men and women in need. Learn more.
Hands On Atlanta will host an America's Sunday Supper, including an audience conversation around the theme "The Cradle to Prison Pipeline." The nonprofit is also offering service opportunities during which volunteers will help bridge the literacy gap by reading to underserved youth at Atlanta public schools. Learn more. (To learn about America's Sunday Supper or to host your own, visit www.pointsoflight.org/mlk.)
Volunteer Center of Greensboro in North Carolina will organize a Community Resource Fair with 25 nonprofits providing support services to low-income families as well as sharing financial resources available to them, with nearly 10,000 volunteers in action. Learn more.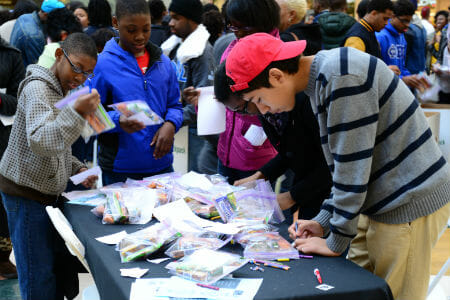 New York Cares will host service projects across two locations in New York City, involving educational enrichment and recreation for students, socialization for seniors and the revitalization of public spaces. Learn more.
City Year New York will mobilize 700 volunteers in New York City with a Community Resource Fair, engaging in civic discussions and hands-on service projects, including painting inspirational murals and creating care packages for cancer patients. Learn more.
LA's Promise will host a two-day MLK Empowerment Summit in Los Angeles, giving community members the ability to learn about local economic opportunities, while also enjoying community activities, dialogue and a film screening. Learn more.
The Jewish Coalition for Literacy in San Francisco will train volunteers to read with students in an effort to develop enthusiasm for reading; meanwhile, parents will learn techniques to foster literacy at home. Learn more.
The Boys & Girls Clubs of Santa Monica volunteers in California will reflect on Dr. King's life while painting murals and cleaning up a local residential community. Learn more.
The Service Collaborative of Western New York in Buffalo will engage 400 AmeriCorps members, students and community volunteers in a large-scale community food drive in support of 1,000 local military families. Learn more.
Volunteer Center of Santa Cruz volunteers in California will assist veterans and people recently impacted by the justice system to develop resumes, prepare for job interviews and improve their financial literacy. Learn more.
The Youth Policy Institute will conduct a Professional Development Day in Los Angeles – providing resources to help residents find jobs. An estimated 150 volunteers will support workshops ranging from resume writing to mock interviews. Learn more.
HandsOn Northwest North Carolina will host the annual MLK Read-In – during which children are paired with volunteer "reading buddies" – sharing the importance of reading and building relationships across communities. Learn more.
Be More in Detroit will host the Dr. King Day Summit – Stepping Up to Fulfill the Dream, which includes a brunch creating dialogue among community leaders. Service projects will commence in the weeks following the summit. Learn more.
Share this post