Startups Addressing Digital and Financial Inclusion: Here's Your Chance to Innovate and Grow
Are you running a startup working to answer this question: How might we accelerate technology adoption and financial inclusion for all to succeed in the digital economy?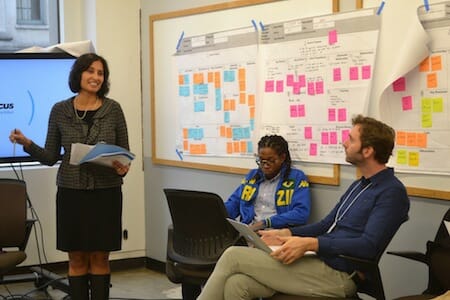 Ayesha Khanna, founder of the Points of Light Civic Accelerator, addresses a group of accelerator participants in San Francisco.
The Points of Light Civic Accelerator can help. The program – now seeking applications from for-profit and nonprofit early-stage ventures – will convene 10-15 teams in Atlanta from April 11-14, in San Francisco May 9-13 and in Washington, D.C., June 13-17.
During the course of 10 weeks, participating entrepreneurs will take part in an intensive entrepreneurial curriculum founded in lean startup development, rapid innovation, design thinking and business model design, as well as connect directly with sector leaders, mentors and investors through curated events and workshops.
Since 2008, the economic recovery in the U.S. has gained momentum for many, yet financial security remains out of reach for low-income families, young adults and ethnic and racial minorities.
In today's economy, digital skills and financial literacy are essential to reaching financial stability, obtaining living-wage employment and achieving economic mobility. And traditional models are failing to close the gap.
The spring 2016 Civic Accelerator will accelerate innovative, scalable ventures that increase opportunities for the underserved and underemployed through:
Financial services offering equitable access to investment capital
Savings incentives and access to cash
User-generated and peer-to-peer technologies that eliminate inefficiency and reduce costs for all
Digital skills development that increases employability and opens access to higher-wage opportunities
Financial literacy models that support and influence healthy financial behavior and greater access to social services, professional mentoring, career advice and healthy living
Some notable Civic Accelerator alumni tackling digital and financial inclusion include Moneythink, Neighborly, Library for All and CODE2040.
The deadline to apply for the spring session of the Civic Accelerator is Feb. 26. The accelerator does not charge for participation, and all selected ventures will receive travel and lodging stipends.
To learn more and to apply, visit cvcx.org.
Share this post