On 9/11 Day, Inspiring Children to Serve
Sitting in the grass, against the backdrop of the Washington Monument, Army veteran Mary Tobin had a bunch of 9-year-olds' full attention. In ways they could understand, she talked about the heroes of 9/11, such as the airline passengers who diverted one of the planes set to be part of the attack.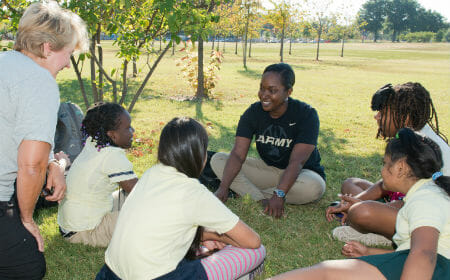 Veteran Mary Tobin, center, tells her story of service to Washington, D.C., students, as Wendy Spencer, left, CEO of the Corporation for National and Community Service, listens.
"They were just ordinary Americans, living their lives, like you live your life – going to recess, going to lunch," she said, as the children giggled. "They heard some bad stuff had happened and they decided to stop the bad guys to keep more people from getting hurt."
Tobin, who was injured while on patrol in Iraq, shared her story of service with the children today as part Points of Light's national 9/11 Day of Service and Remembrance event in Washington, D.C., which brought together veterans and school children to benefit children of military families.
The morning began with a moment of silence, led by Wendy Spencer, CEO of the Corporation for National and Community Service, which sponsored the event.
"It's important that we pledge never to forget those who lost their lives," Spencer told the group of 8- and 9-year-olds from Harriet Tubman Elementary School in Washington, D.C., adding that it's also important to remember the family members left behind. "It's an important part of history that you're learning now."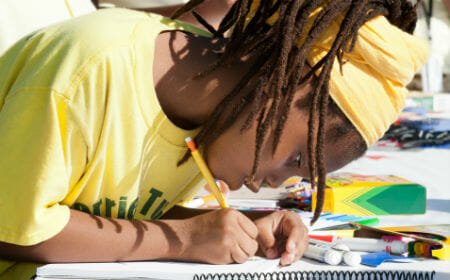 Esther, a 9-year-old student at Harriet Tubman Elementary School in Washington, D.C., writes in a book she is making for a child in a military family.
The children split into groups, which each paired with one of the veterans on hand to share their stories of service. Sacrifice and heroism were predominant themes.
"Do you have someone special in your life who is a hero to you?" asked Army veteran Marten D. Wallace Sr. of his group. "My heroes are those in the military who defend and serve our country. Heroes come in many forms."
"And sizes!" added 9-year-old Esther, excitedly raising her hand.
The veterans talked about what brought them to the military and why it's important to serve others, especially those in their communities. The kids asked about military training, marveled over world travel and even proposed an unorthodox style of combat in Iraq. "You could fight like ninjas," 8-year-old Ginika told Tobin, who smiled at the suggestion.
The kids then worked with volunteers from various organizations, including the Travis Manion Foundation, AmeriCorps and the Tragedy Assistance Program for Survivors, to document the stories in spiral-bound, hardcover books the students assembled and decorated with colorful stickers and markers.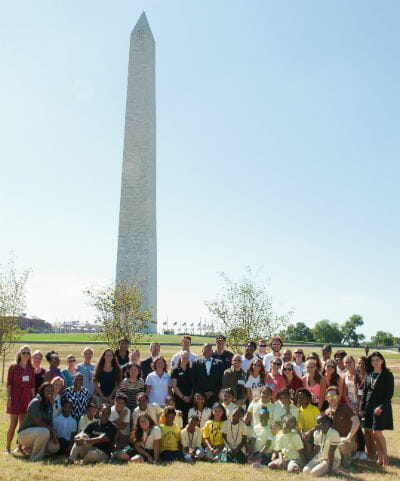 Veterans, students and volunteers gather after the 9/11 Day service project in front of the Washington Monument.
"One time there was a woman who was in a war and who could not see her family," wrote a student named Ariona, about Marine veteran Maggie Sexton. "But she still worked very hard."
The books Ariona and her schoolmates made will be given as gifts to the children of military families – young people who often face particular struggles as a result of having parents deployed overseas.
Janaia DeShields, vice president for military initiatives at Points of Light, said the project brought different generations together to not only commemorate 9/11 but to teach the next generation about what it means to serve.
"We hope to inspire a legacy of service in the next generation of leaders," she said. "Sept. 11 will always be part of our history – how we recognize it is up to them."
It's not too late to serve in honor of 9/11 Day. Events are happening over the weekend. Go to AllforGood.org to find an event near you.
Share this post