On 9/11, Remembering the Fallen and Those Needing a Hand Up
As Americans across the country honored the victims of 9/11 last week through volunteer service, Exelis employees deployed across the Washington, D.C., area during three simultaneous events to remember the thousands of military men and women who have sacrificed their lives since the terror attack and to help those who have come home.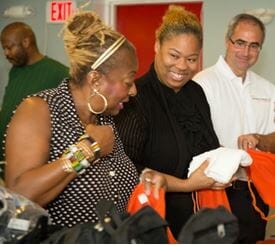 Exelis Action Corps volunteers and members of Points of Light's Veteran Leader Corps joined staff of Veterans On The Rise in northeast D.C. to prepare 100 job-readiness backpacks, which included portfolios, deodorant and toothpaste. Volunteers then worked together to cook a nutritious meal for 50 residents and staff members of Veterans On The Rise, which provides housing and supportive services to homeless veterans.
At the Army and Navy Club in northwest Washington, 20 veterans heard from A. John Procopio, senior vice president and chief human resources officer for Exelis, about how to get ready for job hunting. They then sat down with Exelis executive volunteers for personalized career counseling sessions and had the opportunity to participate in a workshop hosted by tailor Aaron Goode, of VM Clothiers, on how to dress for corporate America. In a raffle, two veterans won tailor-made suits.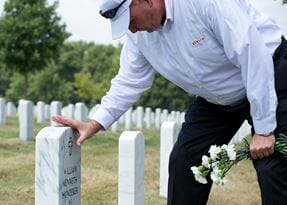 Across the Potomac River at Arlington National Cemetery, Exelis executives gathered with local veterans to pay their respects to the fallen. Following a wreath-laying ceremony at the Tomb of the Unknown Soldier, volunteers walked together throughout section 60 of the cemetery, laying flowers on gravesites. Volunteers then worked to build 100 MedEvac bags for wounded warriors arriving at Walter Reed and Ft. Belvoir medical centers.
"Military service men and women have dedicated themselves to a cause greater than themselves," said Mike Monroe, vice president of military initiatives at Points of Light. "To show them that their nation, its citizens and corporations do not take this selfless act lightly, Points of Light and Exelis show their support on 9/11 and every day."
To learn more about how Exelis and Points of Light are serving veterans, go to pointsoflight.org/veterans.
Share this post