Civic Accelerator Moves Neighbor.ly Toward Serving More Neighbors – Maybe You
Neighbor.ly got some national attention for its success in the recent Points of Light Civic Accelerator and its innovative idea that could soon have you sparking civic projects in your community.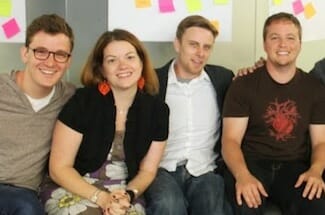 Fred Bauters wrote in the Silicon Prairie News that when he spoke with the web venture's co-founders Jase Wilson and Sean Connolly, "Oddly, very little of the conversation focused on the $50,000 investment they had just won for being selected by their peers as the accelerator's top for-profit startup. … Rather, there were a number of takeaways that had them excited about their crowdfunding startup's future and evolution."
Namely, Wilson said, the accelerator helped the team "realize it's not just about individuals, but bringing together an entire community."
The 12-week Points of Light Civic Accelerator provides mentoring, peer support, entrepreneurial education, networking and investment for startups that solve education, environmental and economic issues by engaging people as part of the solution. At the end of the 12 weeks, the participating entrepreneurs select two ventures – one nonprofit and one for profit – to each receive $50,000 investments. Last month, the program's third group of participants chose Neighbor.ly and the Jubilee Project, a filmmaking nonprofit that helps promote other nonprofits.
Neighbor.ly of Kansas City, Mo., a for-profit business, uses the idea of crowdfunding – calling upon large numbers of people, local businesses and community organizations – to raise money and awareness for projects that benefit communities, such as wireless Internet access for low-income housing, restoration of historic city fountains and a playground built to accommodate children with disabilities. (Click here to explore projects, here to start a project for your own community.)
And as Wilson told Bauters: "We're hellbent on helping greenlight tens of thousands of projects by raising millions of dollars. Points of Light really helped accelerate that process."
Read the full Silicon Prairie News article here. To learn more about the Points of Light Civic Accelerator, go to pointsoflight.org/civicaccelerator.
Share this post