Do Good on 9/11: Volunteer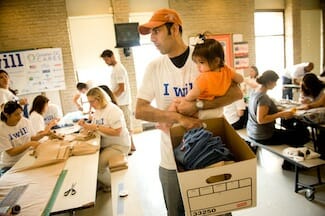 Today, the 9/11 Day of Service and Remembrance, Americans across the country are reclaiming the legacy of 9/11 by doing good in their communities through volunteer service.
Won't you join them?
Check out 911Day.org or Points of Light's volunteer search for ideas. If you don't have the time to participate in an organized event today, pledge to serve at another time. You can even create your own opportunities. Maybe you'd like to organize your child's class to assemble care packages for troops overseas. Or perhaps you'd like to cook a meal for your local firefighters.
To commemorate 9/11 Day, Points of Light is supporting thousands of people nationwide in service projects ranging from disaster preparedness to building MedEvac bags for wounded warriors returning home. Points of Light is working in partnership with MyGoodDeed and has received sponsorships from Noble Vines, CSAA Insurance Group's Community Safety Foundation, UPS and the Corporation for National and Community Service.
Click here to see if there are Points of Light affiliate events in your area.
Let us know what you decide to do to commemorate 9/11 at [email protected]. We might feature your story on our website and share it on social media.
Share this post