The Most Important Shopping List You'll Make This Weekend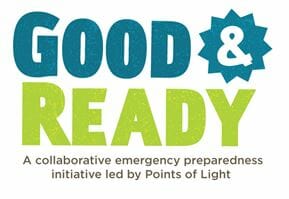 A flashlight with extra batteries. A first-aid kit. A three-day supply of water. Add these items – and a few others – to your weekend shopping list, and you'll be taking a big step toward helping your family be more prepared should a disaster.
September is National Preparedness Month, and in communities across the country, volunteers are helping families prepare for disasters by participating in "Good & Ready" emergency preparedness kit-building events. Disasters can happen anytime, anywhere, with little or no warning. Research from the Federal Emergency Management Agency (FEMA) found that 85 percent of Americans are not prepared for potential disasters.
Good & Ready is an online and on-the-ground emergency preparedness program led by Points of Light in partnership with Ready.gov, the American Red Cross and the Federal Alliance for Safe Homes, with support from Target and The Allstate Foundation. You can help your family and community be better prepared for, and recover more quickly from, disasters.
Visit www.GoodandReady.org to take an emergency preparedness quiz, download a checklist to build an emergency preparedness kit of your own, or find a kit-building event in your community.
And get Good & Ready this month!
Share this post