Today's Education Crisis and the Table of Brotherhood
This post is by Tracy Hoover, president of Points of Light.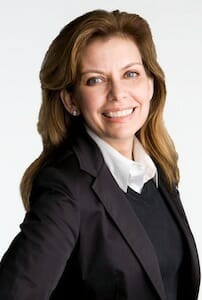 If you've ever imagined a fantasy collection of dinner companions, then you might understand the excitement I felt last Sunday when America's Sunday Supper came to Atlanta
As the sun set on the Martin Luther King, Jr. historic district, I arrived at an event that would kick off our national commemoration of the 50th anniversary of the 1963 March on Washington. Hosted by Bernice King, daughter of Dr. King, and President and Mrs. Jimmy Carter, Atlanta's Sunday Supper brought together a spectacular assembly.
Guests included the Rev. C.T. Vivian, a hero of the civil rights movement and a recent recipient of the Presidential Medal of Freedom; members of Dr. King's family, including his sister, Mrs. Christine King Farris; Atlanta Public School Interim Superintendent Erroll Davis and an exceptional group of principals, teachers and students; Doug Shipman, who leads the Civil Rights Museum; Laysha Ward, president of Community Relations for Target; NBA superstar Dikembe Mutumbo; dozens of Atlanta media, business and community leaders … and me.
It seemed entirely fitting that we came together to share a meal – an enduring ritual of community. By breaking bread together and reflecting on Dr. King's messages, it was easy to celebrate how far we've come. "I have a dream," he said, "that one day, on the red hills of Georgia the sons of former slaves and the sons of former slave owners will be able to sit down together at a table of brotherhood."
Last Sunday, it seemed our supper tables had become those tables of brotherhood, and I found myself rejoicing in the dream fulfilled.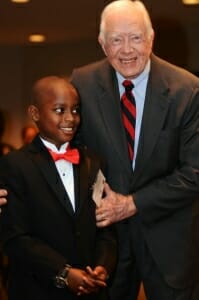 But it wasn't long before our dinner conversation turned to the crisis in American education and the shocking statistics that reveal a profound disparity in access and achievement. Provocative discussions erupted at every table, and guests began to challenge misconceptions, grapple with entrenched issues and suggest creative solutions.
Through diverse voices of young people and seniors, educators and business leaders, parents and neighbors, one common affirmation rang out: Effective education for all must be part of our shared dream for America's future. It is still a promise unfulfilled for too many of our children.
The evening ended with two profound reflections. First, eight-year-old Zaqary Asuamah (pictured left with President Carter) recited the entire "I Have a Dream" speech flawlessly and by heart, a feat that Dr. King's daughter laughingly confessed she might find daunting. And in closing, Bernice King left us with a powerful charge and a promise. "We will do better," she said to America's youth. "We must do better."
Atlanta's Sunday Supper was a touchstone for a renewed commitment to addressing the crisis in education in America. You can watch the program here.
America's Sunday Supper is a national movement that promotes the concept of people coming together across divides to share a meal and talk about how to engage volunteers to help solve critical community problems. Discussions like the one in Atlanta are happening each week, in communities all across America, engaging more than 100,000 people.
America's Sunday Suppers are made possible by Target, which gives 5 percent of its profit and thousands of volunteer hours to communities every day, and Points of Light, the largest organization in the world dedicated to volunteer service.
To keep the momentum going, we hope you will:
Find a great volunteer opportunity here.
Find out more here about hosting a Sunday Supper of your own.
I look forward to what we can accomplish together.
Share this post