A Collegiate Commitment to Community Service
By Samantha Jo Warfield
This post originally ran on the National Service Blog at Serve.gov May 12, 2011

Colleges across the country are preparing to honor their graduates but six schools have yet another reason to celebrate – they've just received Presidential Awards in the 2010 President's Higher Education Community Service Honor Roll.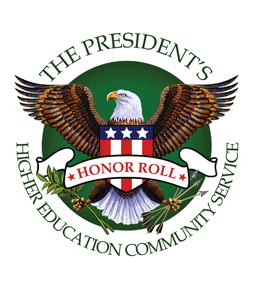 This is the highest federal distinction a school can receive honoring their commitment to service. The six schools, chosen from the 511 named to the 2010 Honor Roll, were honored in three categories:
General Community Service – considers the scope and quality of an institution's service-learning, civic engagement, and community service programs.
Promise Neighborhoods Model – centers on youth-focused services on education and social needs of children.
Summer Learning – focuses on programs that provide a safe, healthy environment for academic enrichment during summer breaks to help students retain what they learned during the academic year.
This year's winners are …
· Augsburg College, Minneapolis, Minnesota — Students completed more than 191,700 hours of volunteer service last year in projects focused on economic opportunity and promoting healthy futures. Some of the projects addressed low-income housing, community health outreach, and financial literacy; the students also helped establish a free clothing exchange and ran an employment education computer lab.
· Rollins College, Winter Park, Florida — Students contributed more than 55,700 volunteer hours last year in education, health, and disaster response projects. These included mentoring elementary-school students, teaching at an elementary school, rebuilding homes, creating hand-washing stations for farm workers, and providing health screenings in Nepal.
· San Francisco State University, San Francisco, California — San Francisco State serves one of the most ethnically and racially diverse student populations in the country. The university has increased the number of local minority students admitted by offering after-school, college-level classes to disadvantaged students of color in more than 15 high schools. Through community partnerships, SFSU students volunteer in community projects that provide health education, English language classes for immigrants, violence prevention programs, and educational programs for at-risk youth.
· Loyola University, Chicago, Illinois — Loyola's Madonna Scholars High School Intervention program produced a 100 percent college acceptance rate for 80 female at-risk participants; 68 percent of them received scholarships upon graduating from high school. The Target New Transitions program provided 4,608 hours of mentoring to middle school students transitioning to high school. Loyola's Math Tutoring program engaged 253 fourth- to eighth-grade students and improved their confidence and academic performance.
· St. Mary's University, San Antonio, Texas — Students participating in the Neighborhood Revitalization Project work through strategic partnerships to improve infrastructure and streetscapes, create urban pocket-parks, build affordable housing, and support a more sustainable business community. The students helped provide resources for the community that address home ownership, credit counseling, and neighborhood landscaping projects.
· California State University, Monterey Bay, Seaside, California — Students contribute more than 84,000 hours of service annually to programs aimed at reducing the academic achievement gap. The Increase the Peace Summer Youth Leadership program provides literacy, math, and art classes in the summer for local at-risk middle school students, resulting in increased academic achievement and positive behavioral change.
These institutions will be recognized during the closing plenary of the National Conference on Volunteering and Service.
While these schools were the select few chosen to receive the President's Award, many other schools across the nation received honors. View the complete list here, where 511 were named to the Honor Roll, and 114 with distinction.
This commitment to community service has tremendous impact on the nation as a whole. In 2009, 3.2 million college students dedicated more than 307 million hours of service to communities across the country – a service valued at more than $6.4 billion.
The Corporation for National and Community Service oversees and administers the Honor Roll in collaboration with the U.S. Department of Education, and the U.S. Department of Housing and Urban Development as well as Campus Compact and the American Council on Education.
Honorees are chosen based on a criterion involving scope and innovation of service projects, the extent to which service-learning is embedded in the curriculum, the school's commitment to long-term campus-community partnerships, and measurable community outcomes as a result of the service.
Congratulations to all the winners!
Share this post