Add These 9 Reads to Your Civic Engagement Book List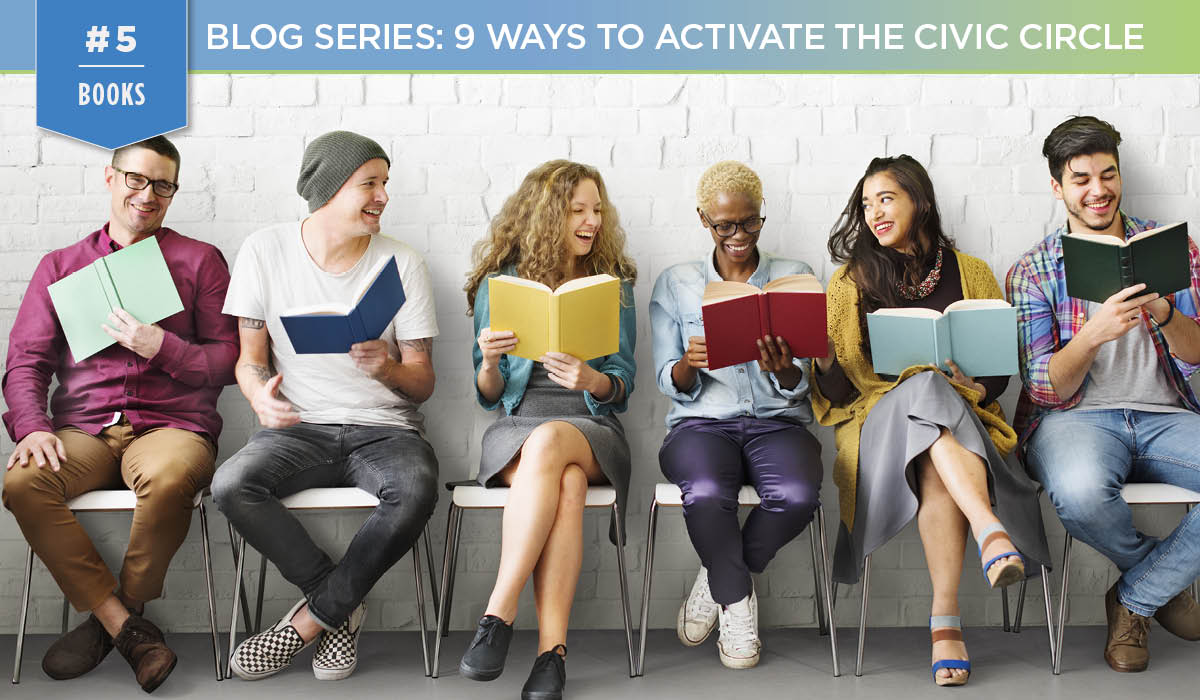 Calling all bookworms! Have you been following our series on ways you can activate around the Points of Light Civic Circle? If you've checked out our other articles with resources like apps, documentaries and podcasts you prefer the written word, we've got the civic engagement book list you've been waiting for.
These books take a deeper dive into the various elements of the Civic Circle,  a framework designed to help individuals connect to opportunities and understand that doing good comes in many forms. Written by authoritative voices in their spaces of expertise, these reads are a must for any budding volunteer, donor, social entrepreneur or engaged citizen.
Looking for an easy-to-understand guide on donating responsibly? Advocate Dan Pollotta delivers in this book exploring topics from researching nonprofits to understanding overhead ratios to the actual impact you're making with your donations. Written for people from all walks of life and of all ages, Dan will demystify donating so you can make better decisions about where and how to give.
American poet, essayist and playwright Claudia Rankine is perhaps best known for her award-winning collection of essays, Citizen, but Just Us is a powerful confrontation of racism. She demonstrates what racism looks like in the United States – from restaurants to theaters to airports – in this moving arrangement of essays, poems and images.
Using your wallet to make a statement? Influence your clients and customers to do the same? Become a conscious consumer and master marketer for good with this comprehensive guide to marketing based on shared values and a unique brand purpose. Even if you aren't in marketing, this book can help you more fully understand how the companies you support with your dollar are marketing to you. A must read!
It's not often we get to peek into the personal lives of military personnel, and even less common for us to hear detailed narratives from women in combat. Journalist Helen Thorpe follows the lives of three women deployed to Afghanistan and Iraq and the effect of their military service on their personal lives and families – over the course of twelve years. It's a compelling illustration of just what it takes for military personnel to serve their countries.
If only social entrepreneurs had some kind of manual for exactly how to launch their enterprise… psst – they do! This playbook is the authoritative guide on the three phases of the start-up to scale-up process. Written by two Wharton professors, this tough-love approach will help social entrepreneurs avoid common pitfalls and navigate the landscape of solving the world's toughest issues in innovative ways.
Penned by journalist Erin Geiger Smith, this book looks at the past, present, and future of voting, including the ongoing fight for voting rights. It covers the voting process, actionable steps for voters to take to become more civically engaged, and an examination of why, in the 2016 presidential election, about 40 percent of Americans didn't vote. Even the most well-versed voter will walk away having learned something new about democracy from this read.
Your voice matters, but using it to better the world is not always clear-cut. Get a leg up with insights about the ways you choose to live your life. Jonah Berger takes us deep into the concept of social influence and how others' behavior shapes our own. Once we fully understand why we do the things we do, we can decide what we want to to resist and what we want to embrace.
Poverty remains one of the leading issues our world has yet to solve, and it can feel so big and overwhelming that you may not know where to start. Join Peter Singer on this journey of exploration into the current state of global poverty and how you can be part of the solution. You may be surprised at some of the ways you can start working to end poverty right now, in your very own community. 
VeraWorks President Bea Boccalandro teaches readers how to transform "meaningless" jobs into purpose-driven ventures in her book about making work more fulfilling. Through real-life stories and plenty of tools, tips and techniques, she offers employees in any industry a way to draw civic engagement into the workforce.
Intrigued? Time to get reading! Tag us on social media to share your favorite book from the list, and let us know how it impacted you and your journey of advocating for the causes you care about.
This piece is part of a series that highlights the many ways you can activate the Points of Light Civic Circle using various tools. Check out all the ways you can live your best civic life.
Share this post