In the Air, on the Ground and Getting Things Done for Communities in Need
This post is by Jackie Norris, executive director, and Yvonne Siu Turner, senior manager, corporate resources and programs, of the Points of Light Corporate Institute. It is part five in a seven-part blog CSRWire series exploring the community engagement practices of winning companies in The Civic 50, an initiative launched in 2012 by Points of Light, the National Conference on Citizenship and Bloomberg. The Civic 50 identifies the top 50 community-minded S&P 500 corporations that best use their time, talent and resources to improve the quality of life in the communities where they do business.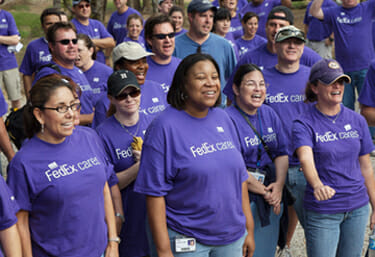 FedEx employees get revved up for FedEx Cares Week.
When Hurricane Sandy pulverized parts of the East Coast in 2012, Bill Bonneau found himself in a unique position. As manager of station operations for FedEx Express, he could help deliver relief supplies throughout New York.
"FedEx's logistical expertise and extensive network made us a key player," said Bonneau. "Despite the logistical challenges associated with route access after a natural disaster, we found a way to answer the call."
Together with thousands of FedEx volunteers, Bonneau directed an effort to deliver almost four million pounds of relief aid for agencies such as the American Red Cross, Heart to Heart International, Direct Relief and The Salvation Army. They delivered everything from meals and clothing to water and medical supplies. They provided logistical expertise to deliver more than 85 generators to LaGuardia Airport, police stations and even polling stations to help residents vote during the 2012 presidential elections.
Thanks to volunteers like Bonneau, agencies like Direct Relief quickly met community needs. "The residents of the area were really hit hard after Hurricane Sandy," said Kerri Murray, vice president of communications for Direct Relief. "Thousands lost power, heat, hot water, so we distributed personal care packs, nutritional supplements and food supplies, all delivered by FedEx."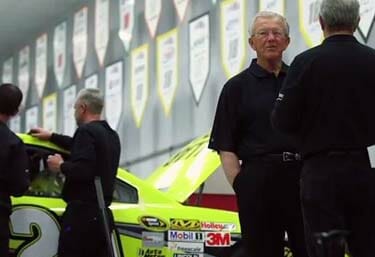 FedEx enlisted NASCAR team owner and former NFL coach Joe Gibbs, second from right, to promote disaster readiness as part of an American Red Cross campaign.
In total, FedEx provided $1.5 million in monetary aid, moved nearly four million pounds of disaster aid supplies and shipped 23,000 meals and 17 polling stations in the aftermath of Hurricane Sandy.
For Bonneau and his colleagues, volunteerism is part of the FedEx culture. The company has managed to connect the dots between corporate citizenship and employee satisfaction, skill development and strengthening the FedEx brand by integrating community engagement into its business – earning it the No. 1 spot in the "Business Integration" category of the Civic 50.
Here are a few examples of how this integration works at FedEx.
Volunteering During FedEx Cares Week Boosts Employee Loyalty and Satisfaction
From building solar-powered playhouses in the San Francisco Bay Area to helping prepare meals in Atlanta, almost 10,000 FedEx volunteers around the globe stepped up to contribute more than 46,000 hours during the company's annual week of service in 2013.
What did they like about FedEx Cares Week? Reasons ranged from pride from working for a company that gives back to meeting other FedEx employees with the same passion to support the community.
"During FedEx Cares Week, I had the opportunity to help make a difference in the lives of others. I felt proud to see the team spirit from all the team members who attended," said Giulia Fontana, a FedEx volunteer.
Training Future Leaders Through International Corporate Volunteerism
FedEx also launched a Global Leadership Program that began in 2012, which has included a total of 24 participants to strengthen the leadership skills of high performers. Groups of volunteers are sent in teams to emerging markets like Brazil and India to work with governments and nongovernmental organizations on skills-based volunteer projects.
Returning volunteers report acquiring critical leadership skills such as recognizing cultural differences; encouraging teamwork; demonstrating resilience, flexibility, resourcefulness and creativity; mentoring; communication and even conducting research.
"Outstanding program – learning to manage in a different culture displays your effectiveness in communication and lets you know your strengths and weaknesses," said Paul Davis, Global Leadership FedEx participant.
From the U.S. Chamber to NASCAR: Building a Good Corporate Citizen
Building on its disaster relief support, FedEx sponsored a monthlong campaign in 2012 to help the American Red Cross promote its Ready Rating program, which helps small businesses prepare for disasters.
While the company could have written a check and walked away, FedEx chose to engage by using its wide array of relationships and corporate assets to support Ready Rating. The result?
NASCAR team owner Joe Gibbs and driver Denny Hamlin spoke on a satellite media tour to promote disaster readiness; America's Small Business Summit featured a panel discussion addressing the need for small business preparedness with the U.S. Chamber of Commerce, the Red Cross and FedEx; and a Red Cross Ready Rating ad ran in Inc. magazine featuring FedEx as a Ready Rating sponsor.
The campaign gave FedEx an incredible boost to its corporate brand: 32 small businesses signed up for Ready Rating and the ad reached more than 700,000 print subscribers and nearly one million unique visitors online. As part of the satellite media tour, Hamlin also gave three national broadcast TV interviews and three local television interviews about the program, which generated more than 50 news stories reaching potentially more than 20 million people.
"FedEx built a commitment to (corporate social responsibility) into the business from the very beginning – dedicating itself not just to moving packages, but also to connecting people and businesses to the global marketplace, improving living standards and building social capital across the world," said Raj Subramaniam, FedEx executive vice president, marketing and communications. "It's credibility you can't generate by simply making a donation, rather it needs to radiate from the heart of your company and your employees to believe in it."
To read the original post on CSRwire, click here.
Share this post