Would You Know What to Do if a Fire, Tornado or Other Disaster Was Headed for You?
Read about how folks in Colorado Springs, Colo., are preparing for disaster. To help your family take action, visit Good & Ready, where you'll learn how to create a disaster plan, build a preparedness kit and more.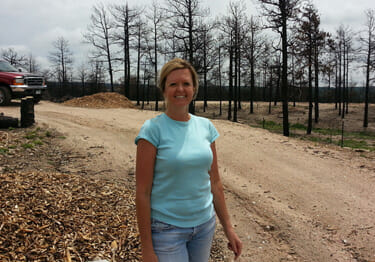 Deanne Ladefoged stands on the Colorado property where her house, destroyed by fire, used to be. Her family is rebuilding.
On a sunny day last June while having lunch with friends, Deanne Ladefoged got word through a cell phone text that she needed to return home – immediately. The fire that had erupted that day in Black Forest, a heavily wooded rural community northeast of Colorado Springs, Colo., was headed for her home.
"Luckily we had learned a lot from Waldo," a 2012 canyon fire, she said. "We already had all of our important papers, titles, birth certificates in a fire-proof box. We also had the photos all in one place set aside."
Ladefoged's family had 30 minutes to evacuate. "By the time I got home," Ladefoged said, "I was able to grab the videos of the kids, a handful of clothing, a little bit of jewelry, medications, the dogs and dog food. Then we left." Her son grabbed the photos and box with the documents. The fire destroyed their home – along with about 500 others – but the family made it to safety.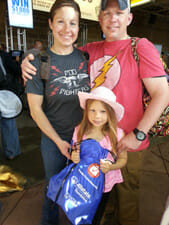 The Lasley family – Marissa, Jeff and 6-year-old daughter Skyler – put a disaster kit together at the Colorado event.
The lesson: Be prepared.
To help people across the country do just that, The Allstate Foundation and Points of Light last week launched a 14-city disaster preparation tour. Participants put together their own disaster preparedness kits with materials provided – including flashlights that don't require batteries, first aid kits and other essentials – and learn strategies they can use. The campaign's first stop was in Colorado Springs on May 21, at a minor league baseball game. Other stops include Savannah, Ga., Baton Rouge, La., and Los Angeles.
"Nobody ever thinks it's going to happen to them," said Tamie Farris, an Allstate agent Colorado Springs. "Even with fires happening here two summers in a row, people have short memories."
In fact, according to Jan Epstein, senior manager at The Allstate Foundation, a sponsor of the Good & Ready preparedness campaign, 85 percent of Americans are unprepared to deal with a disaster. And that number has not changed from 2012 or 2013.
Epstein said of the Colorado Springs gathering, "This is much more than a kit-building event, it's an educational opportunity. We have to take action before disaster strikes. If we don't, where will we be?"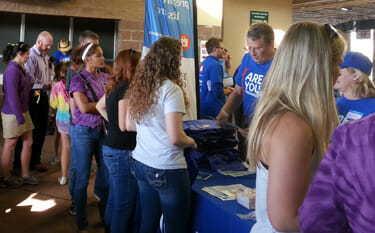 Event participants line up to create their disaster preparedness kits with the help of Allstate agent volunteers at Security Service Field in Colorado Springs, Colo.
Several Colorado Springs-area Allstate agents volunteered at the event by explaining to the participants the significance of each item in the kits. Ashley Simpson, with the Cally O'Donnell Allstate Agency, handed out water bottles. She explained the importance of having an ample supply of water and being aware of expiration dates.
Many participating in the event at Security Service Field, home of the Sky Sox, admitted they would not be ready if disaster struck. Chris Vrana, a 19-year resident of Colorado Springs, said, "I do have a family and I do want to be aware. I think we think it won't happen to us, but it does happen to people, so I think I need this. The fire in Black Forest was scary. … At the time it made me think I should start doing something, but of course I didn't. I'm glad this (event) is getting me thinking about it again."
Farris, the Allstate agent, said she's made disaster preparedness kits for her family for 20 years. She calls them 72-hour kits, because they contain items that would provide aid in the first 72 hours following a disaster.
A few creating kits said they are comfortable with the plans their families have put together should fire strike again. But they said they still learned something new.
Jonneen Kistler, a 21-year resident of Colorado Springs, said her family has a disaster plan and has set aside water, batteries, extra food and more. Nonetheless, she was putting together a bag with her children because she said it was important to keep thinking about being prepared. She added, "We didn't have a whistle or filtration masks. Now we do. I didn't think about those before."
As for Deanne Ladefoged and her family, they're breaking ground on their new home in the same location. They have already planted 110 seedlings and spread grass seed around their once forested property. They spend as much time as possible clearing debris and dead timber from the land.
"The experience made me realize I could become a bitter or a better person. I want to be a better person," Ladefoged said, adding that while you can never prepare for every contingency when it comes to disaster, "you can do some things that help make a difference."
Share this post