An Environment of Service, During and Despite COVID-19
Our environment is a precious gift – one that we have both received from generations prior and one that we will give to those who come after us. And while our environment is a gift, it belongs to none of us individually and to all of us collectively at the same time.
We've been reminded of how "shared" our world is throughout the global COVID-19 pandemic.
During Global Volunteer Month we regularly highlighted Points of Light corporate partners who are demonstrating – and in today's times, redefining – service.
For this post, we'd intended to highlight the ways Coca-Cola and its employees are working to conserve and protect our planet and its resources, using their global footprint to reduce their environmental one. Given the spread of the pandemic, it's important to instead look at how the company is using its reach to help slow the spread of the virus, and to help communities come out stronger on the other side.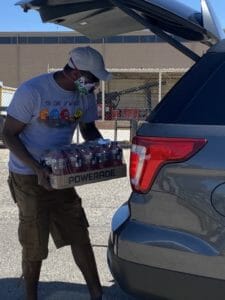 As grocery store workers are considered essential personnel, the company is going to great lengths to ensure its products – including critical items like bottled water and electrolyte-rich beverages – are not only available but are safely delivered to stores.
Coca-Cola is headquartered in Atlanta, just like we are at Points of Light. Incredibly, the company partnered with local university, Georgia Tech, to produce 50,000 plastic surgical shields for medical professionals. University engineers and others across Atlanta worked to design and manufacture protective gear using lasers and 3D printers. Coca-Cola donated 6,000 pounds of plastic, which will be used to make the masks.
Amazing.
Additionally, the company's philanthropic arm, The Coca-Cola Foundation, has made financial contributions around the world, supporting relief efforts in China, Italy, the United States and Canada. The company is redirecting a large portion of the money it would otherwise have spent on advertising and marketing toward community relief programs, medical supplies and equipment – that's in the short-term, for the long-term it's making plans as to how to support a recovery and return to normal operations in the areas that are most impacted by the pandemic. Together, in conjunction with other relief efforts in development, brings Coca-Cola's support for communities impacted by COVID-19 to more than $120 million … and counting.
Communities are stronger when we all play our part – and that's true of the corporate partners in communities everywhere. There's perhaps no corporate entity as "everywhere" as Coca-Cola and it's wonderful to see their leadership and service – right when they're needed most.
To learn more about Points of Light and Global Volunteer Month, please visit: https://www.pointsoflight.org/global-volunteer-month/
Share this post