Are You Part of a Startup Aiming to Do Good in the World? Could You Use Some Help?
Now entering its third year, the Points of Light Civic Accelerator brings together innovative ventures across the country focused around one common challenge: How might we create new pathways and increase access to economic opportunity for all?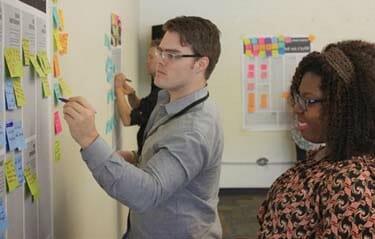 Civic Accelerator participants take part in an exercise.
How It Works
The three-month, boot camp-style program convenes 10-15 teams in person (Atlanta, Silicon Valley and Chicago) and online with the goal of equipping each startup to seek investments and scale their innovative ideas. At the end of the program, ventures give presentations at a demo night attended by impact investors, foundations, corporate executives and social sector leaders. And there's a twist. The participating entrepreneurs themselves decide which two most promising ventures, one for-profit and one nonprofit, will receive a $50,000 seed investment.
Who Should Apply
As recruiting for the fall 2014 Civic Accelerator program heats up, both for-profit and nonprofit startups that engage people to create greater access and pathways to economic opportunity are encouraged to apply. We're looking for innovative technologies, platforms and other models that create positive economic outcomes for the communities in which they operate. Potential solutions include (but are not limited to) innovations in:
Job/career readiness
Financial literacy
21st century skills development
Youth development
Inclusive financial/social services
Social-emotional learning
Workforce development
STEM (science, technology, engineering and math) education
Community revitalization
How to Apply
Apply online here. The fall 2014 Civic Accelerator application will close Aug. 15 and early bird application fee of $35 (regularly $50) will end on Aug. 3. Visit www.civic-x.org​ for more about the Civic Accelerator, to view the complete schedule, eligibility, FAQs, partners​ and more.
Follow the Civic Accelerator (#CivicX) on social media for more information and to see what others are saying: Twitter – @civicacceleratr; Facebook – facebook.com/civicaccelerator; Instagram – @civicacceleratr.
Share this post