A Lifelong Volunteer Expands His Reach with the Help of UPS
Tony Heath grew up watching his parents serve their community. It was a way of life. His mother involved the family in volunteer work through their church, and his father tried to help people in need whenever he could.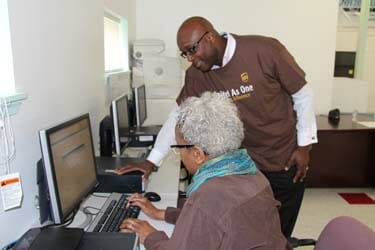 UPS employee Tony Heath, standing, volunteers at the Better Living Center in Chester, Pa., which offers free Internet access to the community.
"They were poor," Heath said, "but they still helped others."
Volunteering became a way of life for him, too. He helped found the Better Living Center in Chester, a struggling city in Pennsylvania. The center – which assists low-income residents – provides food in an area with no grocery stores, helps with job searches, provides clothing, offers health education and screenings, and strives to provide individual solutions to individual challenges.
"If you come in and need help, we'll find help," Heath said. The longtime volunteer is also actively involved with a similar program through the Chosen 300 Ministries in Philadelphia, which runs a soup kitchen and helps homeless people search for jobs. He's also provided meals and propane and arranged for other basic comforts to homeless people living in a tent city in Camden, N.J.
These and other works earned Heath, a UPS community relations supervisor, this year's Jim Casey Community Service Award. Named after the company's founder, it's the highest UPS employee honor. Heath credits UPS for making the breath of his volunteer work possible. The company, using its connections and its own expertise as a global leader in logistics, has helped provide trash disposal services for the tent city and donated computers for the youth and job centers. UPS has even hired some of the job seekers.
See how volunteering has become a way of life for Jim Casey Community Service Award winner Tony Heath. (Click image to watch video.)
"The leverage and the reach of UPS gives us access to people and things we might not ordinarily have," Heath said.
Volunteering is also a way of life for UPS. The company – the title sponsor of Points of Light's 2014 Conference on Volunteering and Service – encourages its employees worldwide to volunteer in their communities, logging 1.8 million volunteer hours each year. The UPS Foundation, the company's charitable arm, has four focus areas: diversity, environmental sustainability, community safety and volunteerism, explained Jerald Barnes, director of global employee engagement for The UPS Foundation. "Volunteerism is the foundation of the other three," he said.
"Humanitarian relief and road safety are the two areas we focus on in our Community Safety focus area," Barnes said. "Road safety because we have more than 100,000 trucks on the road a day driving safely. We take that skill and teach teens at Boys and Girls Clubs the same methods our drivers use. Humanitarian relief is also important for us because we have the logistical expertise to support nonprofits in a disaster through engineers, planes, trucks, warehousing and equipment."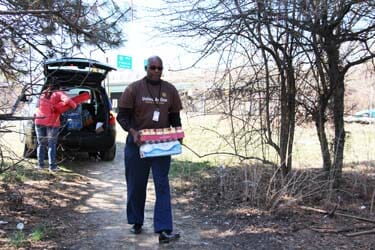 UPS employee Tony Heath brings food to people in need.
Taking on the role of Conference title sponsor this year "demonstrates our commitment to the mission of Points of Light and its effort to engage the world through volunteerism," Barnes added.
At the Conference, David Abney, UPS chief operating officer and CEO-elect, announced a company pledge of 20 million hours of global volunteerism and community service by the end of 2020.
"Volunteerism has always been an integral part of our company culture," Abney said during the announcement. "UPS' founder Jim Casey continually advocated for employees to give back to the communities in which they live and work. Our pledge of logging 20 million hours of volunteer service by the end of 2020 reinforces our corporate giving strategy and our commitment to our volunteering and philanthropic efforts that advance and enrich communities around the world."
Heath's own commitment to helping neighbors won him this year's Casey Award.
"Tony Heath can speak to a homeless person on the corner, train a new driver at Christmastime or go deliver packages in Texas after an ice storm," said Jill Schubert, UPS' Chesapeake district manager. "He's really a total package, and with that comes that sense of community, regardless of where he is, whether it is Houston or Philadelphia or in his backyard."
Heath is working on another plan now, an expansion of work to help youth through the Better Living Center in Chester. The center's goal is to fill the role that a YMCA would have in another community, giving youth a place where they can study and congregate safely.
As his parents did with him, Heath has involved his children with his volunteer work. His youngest daughter, at 13, particularly enjoys working in the soup kitchen and talking with the people there.
"She's been volunteering a good portion of her life," Heath said. It is a routine his two adult children would recognize. "They all know; they all get it. It's about respecting people that are struggling."
(The images in this post are reproduced with permission of United Parcel Service of America, Inc. © 2014 United Parcel Service of America, Inc. All rights reserved.)
Share this post