Want to Help a Veteran? A Vet Tells You How
Today's post is by Birte Keays, a former officer in the German Army. She is an AmeriCorps VISTA member serving as a Community Anti-Drug Coalitions of America VetCorps Prevention Coordinator at Serve DC – The Mayor's Office on Volunteerism.
Birte Keays
Having served myself and being married to a U.S. Navy veteran, I have experienced the tough transition process from the military life to a civilian career. And even though we seem to have made it, I can relate to others who are having a hard time adjusting to the change.
When you leave the military, it is not like just changing your career but changing your whole life. You come from a system that completely took care of you, starting with giving you strict guidelines about your work schedule and location, to setting expectations regarding your physical fitness, while providing you with health care. You are part of a unit, you go to places that others will never (want to) go to and you have buddies you would die for, and they for you. And then it all stops.
There are some fantastic programs in place that ease the transition, but the newly gained freedom that comes with being on your own can be overwhelming and lonely.
One fantastic organization that I was introduced to thanks to fellow AmeriCorps VISTA member, Alley Smith, is Team RWB. Team RWB's mission is to enrich the lives of America's veterans by connecting them to their communities through physical and social activity.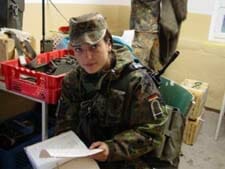 Birte Keays participates in a training exercise with the German Army, in which she served as an officer from 2002 to 2008.
Another great opportunity to get involved is First Lady Michelle Obama's Mayors Challenge to End Veteran Homelessness. Launched in June, the initiative is a way for mayors across the country to solidify partnerships and secure commitments to end veteran homelessness at the local level. Learn more about supporting veterans and others who are facing homelessness by getting involved with a project near you.
To find other national volunteer opportunities, check out the U.S. Department of Veterans Affairs to find a medical center or hospital. You could also get involved with Habitat for Humanity's special Veterans Build initiative to help provide housing.
One of the projects that I am working on aims to bridge the gap between veteran, military service members and military family service providers and the volunteers interested in supporting them. While there are a number of service providers in the area, all too often they are not aware of each other. (For those of you in the D.C. area, Serve DC's volunteer opportunity database, NeighborGood offers one way to find volunteer opportunities.)
During my service, the military built on toughness and encouraged a team spirit, which often led us to look out for others first rather than ourselves. Admitting weakness and helplessness is hard for everyone, and from my own experience, I think it can be even harder for veterans – myself included.
By volunteering with each other you can learn from and support each other without forcing help on someone who does not need any or is not able to accept it at that time. However, they will know that you are there if and when they need someone.
This post first appeared on the AmeriCorps Alums blog, blog.americorpsalums.org.
Share this post