`In Case There's an Act of G.O.D. – Get Out of Dodge – I'm Ready'
Read about how folks in Oregon and New Jersey are preparing for disaster. To help your family take action, visit Good & Ready, where you'll learn how to create a disaster plan, build a preparedness kit and more.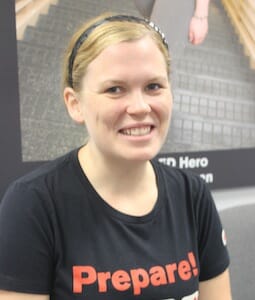 Emily Johnson
Emily Johnson was a child the first time her family outran a hurricane. Its name was Erin, and when it struck the Florida panhandle in the summer of 1995, it sent her family – Emily and three of her siblings, her parents and grandparents, plus the family dog – on a drive across Alabama to a friend's farm.
But one month later, when Opal struck blowing at 115 miles an hour, the Johnsons only got as far as a high school gym. Emily vividly recalls waiting out the storm on a cot while disaster relief volunteers provided aid.
"Having that experience of being afraid and not knowing what to do, it really inspired me to be able to know – `What should I do if there's an emergency? How can I be more prepared and more resilient afterwards?'" she said.
Johnson is now an AmeriCorps member serving on a disaster action team for the Red Cross in Portland, Ore. She came out last Saturday to help out at the Portland stop along a 14-city Allstate Foundation and Points of Light disaster preparedness tour, which also hosted an event that day in the Philadelphia area. At both tour stops, volunteers from Allstate and affiliates of Points of Light's HandsOn Network helped participants assemble free disaster preparedness kits and learn about emergency readiness.
The kits included flashlights, ponchos and whistles, among other vital items. Research shows 85 percent of Americans are unprepared.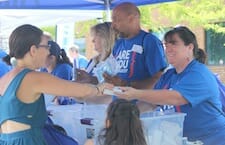 Volunteers talk to attendees of the disaster preparedness tour stop in Portland, Ore., about what to have on hand in case of an emergency.
Sam Workman, an Allstate agent from West Linn, Ore., who volunteered at the Portland event at the Oregon Museum of Science and Industry, said the effort was intended to spur resiliency: "This is to get people thinking about how to be more prepared. We're trying to keep them hydrated and dry, with some basics in case of an emergency."
At the Philadelphia-area event, at the Burlington County Farm Fair in New Jersey, Kevin Mass recalled a time when being prepared helped save time when it mattered. He was asleep when he heard the rap rap rap of police officers knocking on his door at 2 in the morning.
"We live on the Rancocas Creek and it floods a few times a year," he said. "But this time, they were suggesting that we move our cars and voluntarily evacuate. We didn't think twice. And, I was glad we did – a little while later, there was a gas leak."
Fortunately, Mass has always been what he terms a "prepper" – "In case there's an act of G.O.D. – get out of Dodge – I'm ready," he said with a laugh. So he gathered everybody together, grabbed a few bags packed with provisions for his family and pets – including clothes, food, water and medicine – and left his home.
Kevin Mass shares how he has prepared for disaster and why he brought family and friends to a disaster preparedness event in New Jersey.
That Mass is the kind of guy who can never be too prepared was evident at the preparedness event. After he and his family took in the amusement rides, cotton candy and fluffy animals at the fair, they joined the disaster kit assembly line.
"I wanted to see if there was anything that I hadn't thought of," he said. Reaching into a blue nylon backpack with the words "Are You Ready?" emblazoned on it, he pulled out a small crank-operated flashlight that doesn't require batteries. "I like this – it's pretty genius!"
At the two events combined, volunteers and attendees assembled more than 1,000 kits.
The items were starting points, the volunteers emphasized. They also encouraged participants to create a household emergency plan including contact names and phone numbers, medical and insurance information and an agreed-upon family meeting place.
"We didn't have anywhere to go, so we ignored the warnings," said Tiffany Watkins, a survivor of a tornado that ripped through Tuscaloosa, Ala., a few years ago. Now that she lives in New Jersey, she said, she knows where she's going should she ever be told to evacuate: back to Alabama, where she has family.
"Once you see someone's house being smashed flat," she said, "it's too late to realize that something bad is really happening and you shouldn't be there."
Share this post