Be a Drum Major for Good on MLK Day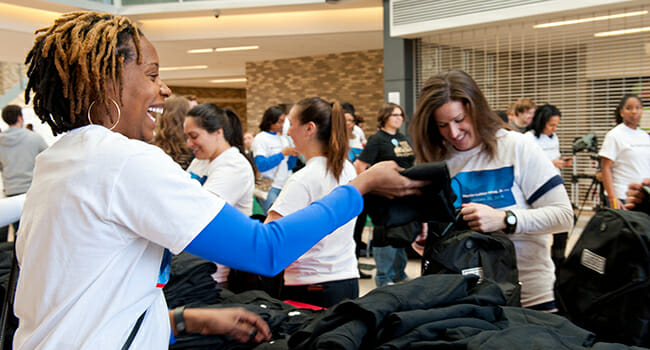 "Everybody can be great because everybody can serve. … You only need a heart full of grace. A soul generated by love." – Dr. Martin Luther King, Jr.
On Jan. 16, millions of volunteers will come together for Martin Luther King, Jr. National Day of Service, to honor the legacy of a man who dedicated his life to the service of others.
As we kick off 2017, MLK Day is an important opportunity for Americans to unite through service. Points of Light – the world's largest organization dedicated to volunteer service – calls together its community of changemakers to reflect on gains won during the Civil Rights Movement and to address contemporary issues facing our nation.
We encourage people across the country to engage in dialogue about issues affecting their communities, and to take action through service. Here are three ways you can make a difference on MLK Day:
Become a Drum Major
Dr. King once said, "Yes, if you want to say that I was a drum major, say that I was a drum major for justice; say that I was a drum major for peace; I was a drum major for righteousness." Join volunteers, leaders, and celebrities lending their voices to MLK Day and the causes they are most passionate about. Share what you are a drum major for using #IAmADrumMajor.
Host a Sunday Supper
America's Sunday Suppers bring together people from diverse backgrounds to engage in dialogue around important community issues. As part of its commitment to building connections among people and communities, Southwest Airlines has partnered with Points of Light to support this meaningful way for changemakers to make a difference on MLK Day. Host a Sunday Supper to bring friends and neighbors together to share a meal and conversation, and inspire acts of service. We have a conversation guide to help you get started.
Volunteer in Your Community
Make MLK Day a day on, not a day off – join millions of Americans who will honor Dr. King's legacy by coming together for a national day of service. Find volunteer opportunities in your community, and share your experience using #MLKDay.
Learn more at www.pointsoflight.org/mlkday.
Share this post