Belief, Energy and Time…. a Powerful Combination for Change
by Shawn Anderson, NCVS Speaker
As I travel the U.S. speaking…and then meeting and listening to people afterwards…one message is clear:
Life is not easy!
In Santa Fe, New Mexico, a woman who had just been diagnosed with cancer told me: "I feel I don't have long to live and just want to give up. Now I am mad at all the things I didn't do when I had a chance."
In Fresno, California, a high school student who came up to me before I left the school grounds because he had been afraid to address me in class: "I'm in a gang, and I don't know how to get out."
In Los Angeles, a woman in her 30's said: "It's hard to be positive when my husband puts me down all the time. I wish I could leave, but I am afraid and don't think I can make it on my own. He's stolen my confidence."
In Amarillo, a 40-year-old homeless man: "I've been down so long, I am afraid to get up. I don't want to let myself down again."
In Philadelphia, a high school student: "I want to be a speaker like you, but my mom doesn't think I can."
In St. Louis, a woman who wants something more from herself: "I want to start a business helping moms be better moms. But it's just a dream…because I need to make money."
In Las Vegas, a man around 60 obviously disappointed by the path he took: "I've worked over 30 years in a job I haven't liked. I needed to support my family…but I wish I had gone the extra mile because now it's too late."
In Wichita, a woman in her 20's attending college who is losing momentum: "I am raising two kids by myself and am trying to go to school, too. Some days, I don't think I can do it anymore."
In Pittsburgh, a distraught woman in her 40's: "What do you do when you keep failing over and over and want to quit trying? How do I keep going?"
Life can be tough, can't it? As the late, great actress Katherine Hepburn once said, "Life is hard. After all, it kills you."
I am certain in saying each one of us has lived through…or is living through…our own challenging life moment. But I am just as confident in knowing that with BELIEF, ENERGY and TIME…things get better.
So how do you create change? How do you improve a crummy situation?
Three things:
Carry the

BELIEF

that you direct what you think, feel and do…not the environment around you.
Put extra-mile

ENERGY

into changing your situation.
Let

TIME

work its magic.
These three together…confident Belief, extra-mile Energy and the passing of Time…will lead to different results. And change. It's what is called B.E.T.ting on yourself and your organization.
If you do B.E.T. on yourself, the defeat, the failure, the divorce, the bankruptcy, the whatever…will all eventually fade. And when you do make your comeback, the difficult times will undoubtedly have made you stronger…wiser…and more ready and able to soak in all the future great things that WILL happen.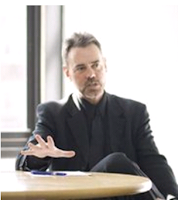 This post comes from Shawn Anderson, ShawnAnderson.com, five-time author, corporate trainer and national speaker on the topics of "possibility thinking and creating opportunity."
He is also the Founder of the Extra Mile America Foundation, a non-profit organization empowering people to "go the extra mile" in life. In 2010, the Foundation led the charge in motivating 116 mayors in 45 different states to declare November 1, 2010, as "Extra Mile Day"…a day to recognize those in the local community going the extra mile. In 2011, over 200 city mayors in all 50 states are expected to do the same.
Join Shawn on Wednesday, June 8th, from 10:30 AM to 12:00 PM, for his session titled The Power of "What if…?" Extra Mile America: Stories of Inspiration, Possibility and Purpose.
Share this post