Building a Startup for the Greater Good? Here's a Hot Place for Entrepreneurs
This post is by Erin Chmelik, Denver-based venture recruitment associate for the Points of Light Civic Accelerator.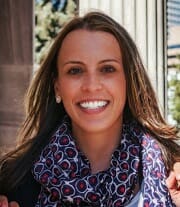 When we think of entrepreneurial hubs, naturally we think of San Francisco and Silicon Valley. In our ever-flattening world, however, it is no surprise that the entrepreneurial landscape is rapidly changing and other lesser-known hubs are popping up all over the United States.
After having worked in Mumbai and traveling through East Africa, I landed in the Denver area ready to follow my passion for social innovation. Unbeknownst to me I had landed in a hotbed for high-tech startups and entrepreneurship.
I joined the Points of Light Civic Accelerator team in February of 2013 in a position that naturally fit with my networking efforts – helping to recruit promising civic ventures from the Denver area for the spring and fall Civic Accelerator programs.
The Civic Accelerator is a three-month, boot camp-style program; participating startups receive tools and mentoring – and potentially $50,000 investments – to expand their innovative work aimed at helping communities. In this work, I have had the pleasure of getting to know the startup communities of Denver, Boulder and Fort Collins – all buzzing with entrepreneurial activity.
So why do these cities make such great launch pads for social ventures? I asked Stephanie Brady, founder of LaunchUR, one of the 15 ventures in the fall 2013 Civic Accelerator. LaunchUR equips teens with skills that will be crucial when they enter the workforce.
"This region is extremely open to innovation, new approaches and challenging the status quo," Brady said. "There is an authentic culture here that is energized, inquisitive, curious, inventive, socially conscious and willing to help others."
She added, "So many leaders in this region embrace our mission to accelerate the 21st century skills of our next-gen leaders and are willing to share advice and refer us to others in their valued networks to sharpen our business model and startup strategies."
This comes as no surprise considering that Denver, Boulder and Fort Collins were among the "25 Top Startup Cities," as named by Entrepreneur magazine, and a recent Harvard Business Review report lists Boulder and Fort Collins as the No. 1 and 2 metro areas for high-tech startup density.
When it comes time to find a home for your next social venture, be sure to visit our mile high communities. You might end up staying!
Applications for the spring 2014 Civic Accelerator are due March 2. For more information, and to apply, please visit www.pointsoflight.org/civic-accelerator.
Share this post