Since Age 7, This Teen Has Been Clearing Pathways for Kids With Disabilities
Know a kid or teen making difference through community service? Nominate him or her today for a Hasbro Community Action Hero Award, brought to you by Hasbro Children's Fund and generationOn. Today we hear from Stephanie Jennis, a 2013 awardee.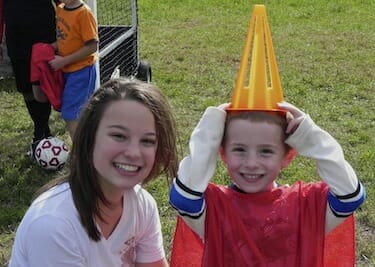 I started Pathways for Exceptional Children when I was 7 as a series of after-school programs where kids with disabilities worked with peer mentors and established friendships. I had no idea that it would get to be so much bigger.
Pathways now has a home base at our own space in Boonton, N.J., called the Creative Studio, where kids with disabilities as young as 8 explore career tracks through classes that spark their interest, like photography, retail, disc jockeying, customer service and our newest tracks: computer programming and filmmaking!
Through an initiative called Project Win-Win, we are now securing jobs for students with disabilities in places like Staples and sending our disc jockeys out with peer job coaches to do gigs for parties in schools and other venues. I have seen what many deem impossible become a reality and I have seen the potential of people of all abilities reach heights never thought imaginable.
After receiving a Hasbro Community Action Hero Award last year, I was even more inspired to move further in my cause of tackling the 70 percent unemployment rate that faces people with disabilities. I knew that Pathways for Exceptional Children had come far, and I was sure that with the support of generationOn, Hasbro and other like-minded organizations we could do even more.
And we did! The Pathways' Rock Band was invited by Kevin Jonas to play on the PNC stage with them during the Jonas Brothers' sound check party. Later in the year, the Youth Advisory Board of State Farm awarded the youth leaders from Pathways almost $70,000 from Best Buy Children's Foundation to transform our Project Win-Win program into a true social entrepreneurship venture.
Being one of the 2013 Hasbro Community Action Heroes, I've realized that there are so many great kids who are just as interested in service as I am. The award gave me the opportunity to see the potential in children and how much they can offer as far as service to their community, country and even the world.
Do you know a young person who is doing great work? Nominate him or her to be a 2014 Hasbro Community Action Hero. The deadline is 5 p.m., Eastern, Feb. 25, 2014. Don't wait – submit a nomination today!
Share this post