A Storyteller Uses Her Skills to Help the Hungry and More
This post is by Yvonne Siu Turner, senior manager of corporate resources and programs at the Points of Light Corporate Institute.
Jasmine Youssefzadeh had a passion for storytelling, and she knew she wanted to incorporate that passion into a business that was dedicated to creating social good.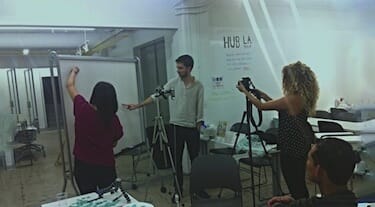 Looking for inspiration, she went to the HUB LA, a business accelerator and support group for the Los Angeles startup scene, and met Matthew Manos, the founder of verynice, a design consultancy that gives half of its work away pro bono to nonprofits. When Youssefzadeh heard about the social impact Manos was having with his unique approach to business and social causes, she knew she had found her inspiration and the business model for her social venture.
A year after that initial meeting, Youssefzadeh founded filmanthropos, a creative agency that specializes in digital media storytelling for causes, nonprofits and corporate social responsibility programs. Through stories, the company humanizes social issues and develops cause marketing that builds awareness. Even as a new startup, filmanthropos' clients include the Boys & Girls Club of Santa Monica, the Children's Bureau of Southern California and the Zimmer Children's Museum.
To meet the goal of giving half of her organization's work away for free, Youssefzadeh doubles filmanthropos' workload and taps into a network of local volunteers to staff pro bono projects. In the company's first year, Youssefzadeh was able to recruit 16 pro bono volunteers and take on 15 pro bono projects to meet local needs.
More than that — Youssefzadeh and her team place heavy emphasis on creative initiatives. For Pro Bono Week 2013, they completed their first pro bono "ProduceAthon." A work-around-the-clock creative blitz, the "ProduceAthon" helped a nonprofit tell its story, highlighting the organization's impact, in a short film produced entirely over 24 hours. The outcome of the event was a 60-second motion-graphic video created for Swipes for the Homeless, a nonprofit focused on alleviating hunger.
"Our volunteers pitched in and helped with scripting, storyboarding, shooting, animation, audio production, editing and more," says Youssefzadeh.
And Dasha Orlova, filmanthropos' creative director, recalls: "My favorite memory of the project was when we were doing a stop-motion scene outside, moving fruit a half-inch at a time. Everybody who walked by wanted to know what we were doing."
For filmanthropos' staff, the pro bono project was not only an opportunity to lend their professional skills to a good cause; it was also a fun team-building experience. "The most gratifying part was the bonding experience," says Orlova. "You get to know other volunteers very well when you're all together for 24 hours straight and your one goal is to produce a video."
The pro bono marathon also generated media coverage for filmanthropos and helped the company develop its client base.
For Rachel Sumekh, executive director of Swipes for the Homeless, a program that enables college students to donate their excess meal points to buy food for those in need, the ProduceAthon was a huge boon.
"The video helps us communicate the impact of our work, makes our organization look edgier and has already helped drive more traffic to our website" says Sumekh, Swipes for the Homeless' sole staff person. "We often don't qualify for services from larger foundations or companies, but with filmanthropos' focus on smaller nonprofits, we could."
Watch the video that filmanthropos created for Swipes on YouTube. Interested in applying for filmanthropos' next "ProduceAthon" in March? Email [email protected].
Share this post