A Young Olympian and Volunteer at Heart
In Sochi, he's an Olympian. Back home in Highland Park, Ill., he's a volunteer.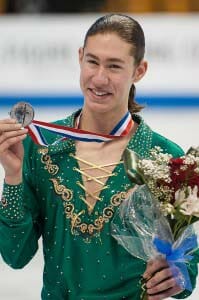 Jason Brown – who at age 19 is the youngest American men's skater to qualify for the Olympics in nearly 40 years – participates in service projects through Chicago Cares, a HandsOn Network affiliate.
"The Jason Brown you've seen as part of Team USA is authentic, humble and full of positive attitude – the very same Jason Brown who shows up to volunteer," says Katie Stearns, who worked with Brown at Chicago Cares.
"His family, friends and community –including those who know him through his volunteer service – are rooting for him to do his personal best at the Olympics because he always does his best for those around him," says Stearns, now Points of Light's vice president, corporate partnerships, action networks.
NBC recently featured Brown's commitment to volunteering as part of the network's Olympic coverage; read it here. On Feb. 9, Brown helped the men's team win the bronze medal. (The men's figure staking competition continues Feb. 13.)
Brown's volunteer work has included organizing a community service project for his Bar Mitzvah in lieu of a traditional party. He invited hundreds of family members and friends to join him in service at an elementary school outside of Chicago.
These volunteers of all ages completed several projects, including organizing the school library, installing an outdoor classroom, painting a U.S. map and line games on the playground, creating inspirational murals and mosaics and planting a garden in front of the building. They also made teddy bears and fleece blankets by hand for a local children's organization.
"Jason is the best kind of volunteer," Stearns says. "He's filled with energy and a real desire to make a difference and ready to share that passion with those around him so they, too, get excited about volunteering."
Share this post