A Great Opportunity for Entrepreneurs Who Want to Do the World Good
So you are a social entrepreneur with a civic-minded startup who wants to make a difference in the world. You have an innovative solution that gets to the root of a social issue, but are overwhelmed by the crowded field of startups and are unsure of how best to engage people, secure funding and grow your startup into a success.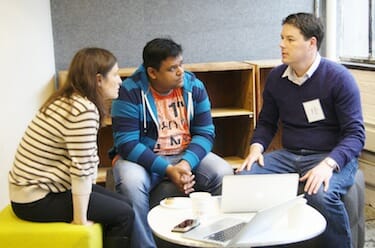 Enter the Points of Light Civic Accelerator.
Points of Light – in partnership with Village Capital, and with founding support from PwC Charitable Foundation and Starbucks Foundation, plus support from the Blackstone Charitable Foundation and official hotel sponsor Hilton Worldwide – created the Civic Accelerator with entrepreneurs like you in mind.
We believe people can be part of the solution to pressing social and environmental issues, which is why we focus on civic ventures, both nonprofit and for-profit, that are designed to tap into people's talents, compassion and goodwill.
The Civic Accelerator program will take you and your team through a the three-month, bootcamp-style program with 10 to 15 other startups. You'll convene in person during three weeklong sessions in Seattle, New York and Atlanta, and online in between sessions.
Aside from working with other startups the Civic Accelerator will partner you with mentors, impact investors and community leaders who are committed to your success. Industry experts will also train you in necessary skills such as fundraising, startup engineering, marketing, measurement and evaluation, and how to expand your startup.
Need more incentive? At the close of the program each startup will pitch their idea at a showcase event for civic leaders and investors. The two most promising ventures, one for-profit and one nonprofit, will be selected to each receive a $50,000 seed investment with a twist – you and your fellow entrepreneurs ultimately decide who will receive the investment.
In the most recent cycle the two startups that received funding were Kindoma and IDignity. Kindoma, a for-profit company in Palo Alto, Calif. created a mobile videochat platform that makes activities such as book reading longer, richer and more engaging for children and parents. IDignity, a nonprofit in Orlando, Fla., helps the disadvantaged overcome barriers to participating in society by helping them obtain identification documents such as birth certificates, Social Security cards and photo IDs.
"Receiving this investment from my Civic Accelerator peers is an exceptional honor and will help us scale and grow our impact based on a new business and revenue model we were inspired to develop during the program," said Michael Dippy, founder and executive director.
Applications for the spring 2014 Civic Accelerator are due March 2. We are looking for ventures in these areas:
Education
Community and economic development
The environment
Technology platforms for good
For more information, and to apply, please visit www.pointsoflight.org/civic-accelerator.
Share this post