Change Notes: Celebrating People In Action for National Volunteer Week

Friends,
Sunday marked the start of National Volunteer Week. Points of Light will lead the nation in a celebration of people doing extraordinary things through service. The week honors the people and organizations dedicated to taking action and creating solutions for their communities.
Each year for more than two decades, National Volunteer Week has focused attention on the impact and power of volunteerism and service as an integral dimension of our civic landscape. It is a time of celebration and of recognition of the power of people to create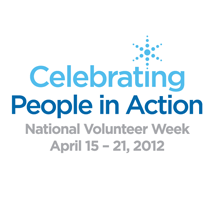 change.
To celebrate the power of service, President Barack Obama issued a national proclamation, and governors, mayors and municipal leaders, as well as corporate and community groups across the country are highlight the power of people to create change.
Members of Congress from across the country are recognizing Daily Point of Light Award honorees from their district or state to showcase these individuals' extraordinary work. These 32 leaders have posted inspirational videos, highlighted volunteers work on social media and sent personal letters to award winners to thank them for their leadership.
Special Events
During National Volunteer Week, Points of Light is hosting special events to recognize volunteers who have made an impact across the nation. Highlights of the week include:
The national Make A Difference Day Award luncheon on April 19 will celebrate the 2012 Make A Difference Day honorees for their outstanding contributions and impact through voluntary action. Each will receive a $10,000 grant from Newman's Own and a trip to Washington, D.C., to the event. In addition, the event highlights the commitment of Newman's Own, USA WEEKEND Magazine and Points of Light in inspiring, equipping and mobilizing people to create change. The keynote address will be given by Kevin Bacon, actor, musician and founder of SixDegrees.org.
A Billion + Change hosted a breakfast and panel discussion at the 2012 Business and Civic Leadership (BCLC) National Conference earlier today on the ways skills-based volunteering can create high-impact social change. The discussion focused on ways companies can offer their best business skills and talents to benefit the mission of nonprofits.
 Recognizing Volunteerism
Along with individuals, Points of Light is recognizing 10 national nonprofits that are making a tremendous impact on our country's most critical challenges. These organizations, which have partnered with Points of Light, are mobilizing volunteers in meaningful ways to create change through hands-on service. These organizations also demonstrate a collaborative spirit through partnerships with other organizations to help strengthen communities across the nation. Partners include: Alpha Kappa Alpha Sorority, Inc., American Red Cross, Big Sunday, Blue Star Families, Boys and Girls Clubs of America, FoodCorps, Give an Hour, National Voluntary Organizations Active in Disaster (VOAD), Share Our Strength and United Methodist Communications.
Last, but not least, Points of Light is recognizing its Leadership Partners, companies making important, strategic investments in the communities where they live and work through their partnership with Points of Light. These companies not only provide employee volunteers' time and talent, they provide thought leadership and significant financial support. They include tier one partners American Express, Hasbro, Target, University of Phoenix and the UPS Foundation; and tier two partners Altria Group, Best Buy, GlaxoSmithKline, Google and JPMorgan Chase.
Engaging in Year-round Service
Points of Light will also launch two new public service announcements during National Volunteer Week to encourage volunteers to take action in their communities. One, by country music icon Reba, urges people to connect to Points of Light to find local volunteer opportunities. The other, by Ann Lopez, formal national spokesperson for the National Kidney Foundation and founder of The Lopez Foundation, highlights National Donate Life Month in support of organ, eye and tissue donation. Both videos are available on Points of Light's YouTube channel and the National Volunteer Week website.
This year's National Volunteer Week celebration is sponsored by Reward Volunteers®, an initiative of Cabot Creamery Cooperative. Now through July 7, volunteers are encouraged to download and use the Reward Volunteers® app for iPhoneor web widget. Reward Volunteers is a free, easy way for anyone that volunteers to log their time, post to Facebook and earn rewards for themselves and the organizations they serve.
Through the dedication and leaders of individuals, organizations and companies across the country, we are making an impact on the challenges we all face. I salute all who give of their time, talent, voice and money to create a better world.
 In service,

Michelle Nunn
CEO. Points of Light

Share this post