News Flash: Innovative Strategies for Serving Atlanta
As part of National Volunteer Week, A Billion + Change brought together leaders from Atlanta's business and nonprofit communities yesterday for a special panel discussion, "Innovative Strategies for Serving Atlanta." Hosted by Deloitte and McKenna Long & Aldridge LLP, the panel focused on the power of corporate skills-based and pro bono volunteering to address community needs and challenges.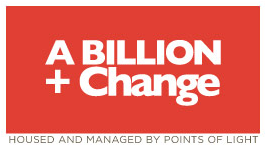 "As the birthplace of the civil rights movement with a long-standing tradition of philanthropy and service, Atlanta has long been called 'The City Too Busy to Hate,'" said Atlanta's Chief Service Officer Amy Phuong. "But Mayor Kasim Reed believes Atlanta can do more and become the city that is also not too busy to love one another. Our city has a deep culture of business innovation, so we strongly believe A Billion + Change is the kind of challenge our city's leaders can rise to meet."
A Billion + Change, housed and managed by Points of Light, is a national campaign to mobilize billions of dollars of pro bono and skills-based volunteer service from corporate America by 2013. As this movement grows, there have been some amazing examples of businesses and nonprofits working together to address critical needs, including:
Deloitte's commitment to provide $60 million in pro bono professional services is made real by the work of its employees as they provide strategic planning and IT solutions to organizations like the Girl Scouts, Professional Business Women of California and the YWCA
UPS logisticians and engineers are helping international relief organizations respond to and prepare for disasters while their drivers are teaching low-income teenagers road safety and driving skills
Skanska USA has partnered with the Atlanta Mission to design and create the Atlanta Urban Garden, a downtown community garden that benefits more than 500 homeless and recovering men, providing not only reduced cost, healthy and locally grown fresh produce, but also vocational training and purposeful work
So far, A Billion + Change companies have pledged nearly $1.8 billion in service to help nonprofits be more effective agents of change.
Every day, the campaign's pledge companies are redefining what it means to help by investing their time and talent to build nonprofit capacity at home and around the world.
"At Deloitte, we try to select nonprofit engagements in a way that lets us use our employees' talents and skills to give back to communities-we think that is an important thing to do. We challenge you to think about how you can give back through pro bono and skills-based volunteering," said Ed Heys, managing partner, Atlanta and Birmingham, Deloitte, and chair, Georgia Chamber of Commerce.
A Billion + Change looks forward to working with Deloitte, the Corporate Volunteer Council  of Atlanta, Hands On Atlanta and the mayor's office in the coming months to engage the Atlanta business community in skills-based volunteering.
To learn more about how your organization can join A Billion + Change, visit our website at www.abillionpluschange.org.
Share this post