Change Notes: Monday Will Be a Big Day for Service and for All the Nation's Volunteers

Dear friends,
At 1:30 p.m. on Monday, President and Mrs. Obama will host President George H. W. Bush and Mrs. Bush at a special White House ceremony to honor the 5,000th person to receive the Daily Point of Light Award, which recognizes those who embrace the challenge of tackling a community need through volunteer service.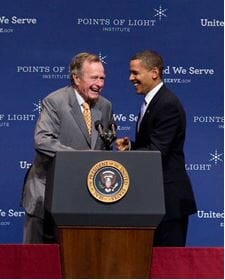 This is exciting for so many reasons.
First, the event in the East Room is a wonderful way to honor President Bush and his life of service and to celebrate a milestone in the life of an award he created 24 years ago.
Second, it's always a great day in Washington when people come together across the aisle to unite in service.
Third, the ceremony will showcase how essential volunteers are to American greatness. At a time when American confidence in our institutions is low and when a dispiriting cynicism too often pervades our news and discourse, the Daily Point of Light Award is an antidote. It reminds us that people care and that hope is the story of America.
Finally, the event will celebrate you and all the people who give of themselves to spark change and improve the world.
I hope you'll join the fun and inspiration on Monday. You can:
Watch the event live at www.whitehouse.gov/live at 1:30 ET.
Nominate someone you know for a Daily Point of Light Award at www.pointsoflight.org/dailypointoflight.
Tweet about someone who has made an impact on your life or community, using the #mypointoflight hashtag. (For example, #MyPointofLight is Julie Smith, my 10th grade English teacher, who worked to encourage literacy in our community.)
The next 5,000 Daily Point of Light Award winners will reflect President Bush's belief "in ordinary people who reach beyond themselves to touch the lives of those in need, bringing hope and opportunity, care and friendship. By giving so generously of themselves, these remarkable individuals show us not only what is best in our heritage, but what all of us are called to become."
I hope you will be among them!
In service,

Michelle Nunn
CEO, Points of Light
Share this post