President George H. W. Bush Shaves Head to Support 2-Year-Old Cancer Patient
A picture of a smiling president holding a 2-year-old boy with leukemia has touched millions, as people have turned to social media to spread the story behind the photograph.
When President George H. W. Bush saw that members of his Secret Service detail had shaved their heads to show support for the boy – whose cancer treatment is causing his hair to fall out – the 89-year-old decided to bare his own scalp this week.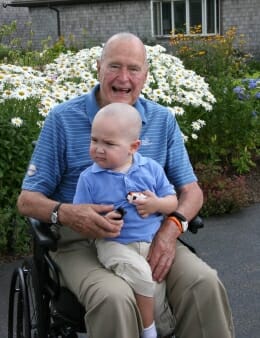 Young Patrick's father, Jon (last name being withheld at the family's request), serves with President Bush's security detail. To raise money for Patrick's medical bills, Jon's colleagues created a website, www.patrickspals.org, and scheduled a benefit for Aug. 10 – a 50-mile motorcycle ride through the Maine countryside, followed by a lunch and silent auction.
Once President Bush and his wife, Barbara, learned about "Patrick's Pals," they donated to the cause and President Bush volunteered to shave his head. The Bushes lost their second child, Robin, to leukemia at age 4.
News of the Bushes' support – and particularly the photo of a bald President Bush holding Patrick on his lap with grandfatherly warmth, both wearing blue golf shirts and khakis – went viral Monday, receiving wide attention on social media and on the news.
On Twitter, @EdmundWalsh remarked, "Seriously, if George HW Bush gets any cooler and more admirable he's just going to turn into a light particle. A literal point of light." The Facebook page of 46 Mommas Shave for the Brave – a group of women who have shaved their heads to support parents of children with cancer – linked to a Huffington Post story about President Bush shaving his head and commented, "Just like a Momma." Besides The Huffington Post, NBC News, CNN and the New York Daily News were among the many outlets that have picked up the story.
If you want to help with the Patrick's Pals effort, you can tweet using the hash tag #PatricksPals; share this blog post on Facebook; and visit www.patrickspals.org.
Share this post