Change Notes: National Conference on Volunteering and Service Creates Turning Point

Friends,
Points of Light convened the 2012 National Conference on Volunteering and Service recently in Chicago, bringing together more than 5,000 civic leaders to gather, share stories and best practices, and be inspired to create greater impact. Our theme this year was "Turning Point" and we believe there were real moments of transformation for individual participants and for our larger service movement.
Twenty years ago, Points of Light convened its first conference in Chicago. It was a gathering of individuals, organizations and corporations that came together to spur volunteer and civic action. In the time since, we have made phenomenal progress. Today, 25 million more Americans are volunteering in their communities than when President George H. W. Bush made his call to service in 1989. We have young people volunteering at a higher rate than ever before and we have a generation of citizens equipped with new ways of creating scale and impact.
The arc of the past 20 years has been lifted ever upward through critical leadership at pivotal moments from ordinary American looking to create healthier, stronger communities and address the challenges they faced. These moments are not just individual successes; they are turning points for the entire service movement.
I believe three critical turning points have brought us to this moment and will shape our future. Here are just a few of the examples of change agents that are driving these turning points.
First, we must look at the impact of service. In 2003, Audrey Suker started the Minnesota Reading Corps with 250 children. Today, the Corps engages 1,000 AmeriCorps members to serve 20,000 children, 80 percent of who achieve more than a year's worth of progress, dramatically exceeding state and national averages. More importantly, these kids are dramatically improving their chances of succeeding in school and in life.
The Corps' work in Minnesota schools is just one of hundreds of examples of ways we have learned to demonstrate measurable progress against seemingly intractable social problems.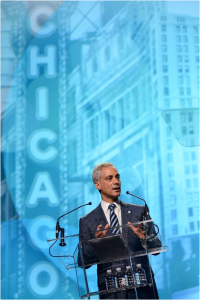 I see impact all over the work of civic innovators like Jennifer Pahlka at Code for America and Ben Rigby at Sparked, who have created organizations that are harnessing the expertise of citizens. Jennifer has created what she calls a Peace Corps for Geeks that is changing how cities work through technology and public service. Sparked is creating opportunities for people, through micro-assignments, to apply their gifts to nonprofit needs.
Leaders like Jean Case and Senator Mark Warner are taking these efforts to the next level with the creation of a pro bono marketplace. Re-launched this past fall within Points of Light and with the support of Deloitte, A Billion + Change has generated commitments from 208 companies for more than $1.8 billion dollars in pro bono services to the nonprofit sector.
We've turned a second corner with our work on citizen-centered solutions. We're putting people at the center of change, meeting people where they are, embracing each person's unique talents and passions.
In the aftermath of the Haiti earthquake, Jake Wood realized that the skills he cultivated as a soldier on the battlefield – emergency medicine, risk assessment, and teamwork – would be invaluable in the face of natural disasters. Since then, his Team Rubicon has mobilized veterans in the aftermath of disasters from Texas to Mozambique.
Jake is putting veterans at the center of change. He is demonstrating the alignment between community service and military service. He is creating a united front of citizens who stand ready to safeguard and support our nation.
Leaders like Lester Strong with AARP Experience Corps and Maya Enista Smith of Mobilize are putting new generations at the center of change – both baby boomers, who are using their experience in encore careers devoted to service, and millennials, who are acting with an unprecedented scale and nimbleness. They are discovering new ways of activating the idealism and experience of our citizens over a lifetime.
The third turning point is all about innovation and service going global. We are accomplishing things we couldn't have imagined just a few years ago.
When Sargent Shriver and Harris Wofford started the Peace Corps, they believed it would be truly serious when 100,000 members served around the world. Today our government supports just 9,000 Peace Corps members, but through innovation and multi-sector collaboration, we have a tapestry of business, nonprofit and governmental organizations that are activating more than a million volunteers internationally each year.
Corporate leaders like Diane Melley have spearheaded the creation of IBM's Corporate Service Corps, which sends teams of employees around the world on long-term assignments to create social enterprises and economic development projects. Social entrepreneurs like Scott Beale have created an inverse Peace Corps where global innovators spend a year helping U.S.-based nonprofits.
Our service boundaries are no longer circumscribed by nation or exclusive to the nonprofit sector, but are limited only by our imagination to act on a global stage across all sectors.
The Conference gave the service sector the opportunity to come together. To join forces to tell our story – the story of how we the people can solve the problems of our time.
If you were able to join us in Chicago, I hope you left feeling energized and empowered. If not, I encourage you to visit the Conference website and watch some of the sessions available on video – they are truly inspiring. An extraordinary cross-section of leaders joined together – from the opening plenary with Chicago Mayor Rahm Emanuel, Dr. Jill Biden, Barbara Bush, Kevin Bacon and J.R. Martinez, to Target's education-focused plenary with Secretary of Education Arne Duncan, to the closing plenary that brought the audience to its feet with inspiration and a closing ritual to reimagine our citizenship.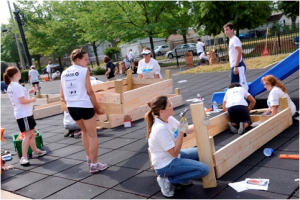 Conference attendees also left their mark on the city of Chicago through Seeds for Change, which built three new community gardens in areas considered "food deserts" and assembled 500 "Seeds of Change: Community Garden Kits" containing seed packets, seedlings, implementation guides, service learning materials and gardening supplies that went to schools throughout the city.
All this was made possible through the generous support of presenting sponsors Chase and Target, leadership sponsor University of Phoenix, platinum sponsors ITT Exelis and Toyota and more than a dozen other corporate partners.
By embracing our turning point we can achieve the promise staked at the Conference – share, celebrate, learn, strategize and challenge each other to move our service work forward, to be more purposeful, more focused, more coordinated and more creative.
We can do this – for ourselves, for all those in need, for our nation and our world – if we do it together. We look forward to coming together next year in Washington, D.C., June 19-22.
In service,

Michelle Nunn
CEO, Points of Light

Share this post