Change Notes: A Turning Point to Put People at the Center of Change

Friends,
The 2012 National Conference on Volunteering and Service is the largest convening of volunteer, national service and civic leaders in the world.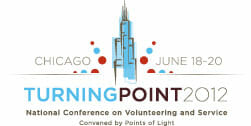 As we come together in just a few short days, we find ourselves at a turning point, both in the service sector and the world at large. We face significant challenges and constrained resources. And, yet, we have an abundance of human capital that is generating unprecedented energy for positive change. This wellspring of super-empowered citizens holds the potential to address the critical challenges of our time and reshape our world.
This year's Conference will look at how a new generation of citizens is making their mark – young people, veterans and civic entrepreneurs who are creating new solutions. These individuals are not bound by old traditions or sector boundaries, and are less patient with institutional change. They are creating new pathways for direct action and social enterprise to make a difference and unleashing their optimism with new levels of speed and scale.
A new "greatest generation" is also returning from war, almost one million strong, and they want to apply their knowledge, skills and experience in continued service to our country. How we welcome them and reintegrate their service into civilian life will have enormous implications for our nation.
Together, we are redefining what it means to be a citizen – people are using their time, talent and dollars in new and unique ways. Over the course of our time together, we will hear how three generations of a great American family – the Bushes – have defined, and are redefining, service.
We will hear from valiant veterans like J.R. Martinez who are bringing their skills and service home to lift up our communities. We will explore how Dr. Jill Biden and first lady Michelle Obama are leading us all in Joining Forces with our returning veterans in solidarity and support.
Points of Light's Service Ambassador Kevin Bacon will share how he is leveraging his fame and talent to generate dollars for nonprofits through social connections. CNN's Soledad O'Brien will frame our nation's education challenges and discuss how individuals and institutions can become a part of our national strategy to boost graduation rates and increase academic performance.
We will be inspired by Chicago's great leaders and favorite sons, like Secretary of Education Arne Duncan and Mayor Rahm Emanuel. Mark Shriver will help us celebrate the legacy of Sargent Shriver, one of our nation's great citizen activists and a Chicago hometown hero. And that is just a small sampling.
We will have large moments of inspiration and intimate gatherings for Conference participants to meet with civic leaders and time to celebrate and reconnect with our colleagues and friends. This year's conference will be rich with opportunities for thought-provoking conversations about national service, social entrepreneurship and hands-on action. Together, we'll examine new ideas that lead to bigger possibilities for activate 21st century volunteers, helping them use all of their assets to build strong, vibrant communities around the world.
Register now to join us in Chicago to be inspired by the ingenuity, passion and spirit of service leaders from around the world. Through collaboration, alignment and action we can make this a turning point to put people at the center of change.
In service,

Michelle Nunn
CEO, Points of Light

Share this post