Changing the World `One Apple at a Time'
This post is by Calla Gilson, 17, who inspires other young people to get involved in service as a National Youth Advisory Council member for generationOn, the youth enterprise of Points of Light.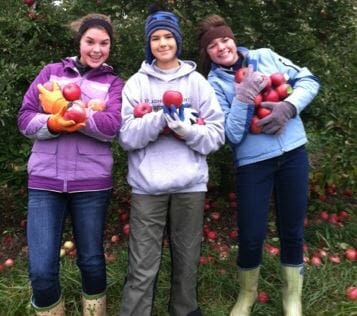 I love fall in Ohio. It's the time of year when we celebrate the plentiful harvest and come together around campfires for fellowship. As the colors change, the fruit trees bend under the weight of their bountiful crop. This season, farmers have filled even their winter storage spaces to capacity. But there is so much fruit still left on the trees. Unless the deer eat the apples, the fruit will simply rot!
Stopping to compare this golden picture to the frustrating statistic that one in five children in the U.S. is hungry, this waste of food seems so wrong. While the rest of us are sitting down to holiday dinners, these children are left with a colder, hungrier winter ahead.
For my family, gleaning (collecting leftover crops) combines the best of the fall festivities – celebrating the bounty alongside the people who matter to you most – to help those who need it most. In an attempt to salvage all those extra apples, many orchards organize end- of-season gleaning sessions. Volunteers are invited to pick all the leftover fruit so it may be donated to area food banks.
On a recent trip to a local orchard, my family of five spent two hours at a local orchard was able to pick 600 pounds of apples easily. These apples will be used throughout the winter to help a local school provide meals for students who live in households that don't have enough food. Every Friday, backpacks filled with nutritious foods are sent home with the students, for free. When the most basic needs of these students are met, they can focus on what really matters – their studies.
Who knew that helping others could be so much fun? My monkey of a younger brother loved climbing up into the apple trees to toss down the fruit to me, waiting on the ground. My sister and I kept a running competition to determine who could pick the most apples, and my father challenged us all to find the largest apple in the orchard. (I did!) It was a great opportunity for my family to catch up after a long and hectic week. The smell of the apple trees, the chilled autumn air and the nearness of my family made for the perfect afternoon.
The best way a family can show their gratitude for their many blessings is by giving back to the community. My family made memories that day at the orchard that I will be able to look back on for years to come. By fostering a love of service, my parents have instilled within my siblings and me a greater sense of purpose. We realize that we have the potential to change the world – one apple at a time.
Calla Gilson joined families across the country this year to support Family Volunteer Day on Nov. 23. Disney Friends For Change, a Disney initiative dedicated to inspiring kids and families to make a positive change in the world, was the presenting sponsor of Family Volunteer Day 2013. Embassy Suites was a supporting sponsor. Find out how your family can join Calla in making a difference this holiday season by visiting generationOn.org.
Share this post
---