Festive, Active and Yummy – Keep Volunteering Fun for Your Family
This post is by Ann Saylor, a mother of three who blogs regularly for MommySecrets and TheAssetEdge. She and her family participated in Family Volunteer Day, Nov. 23.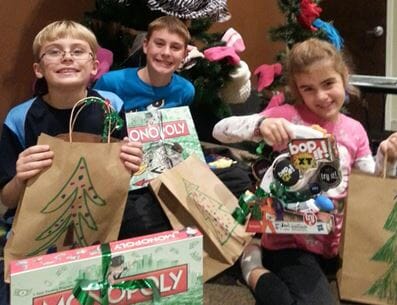 My husband Dan and I are training our children to serve others thoughtfully by making it a priority to serve together. With our children being ages 11, 8 and 7, it's challenging to find a place to serve together in our rural area, so we have worked to design service projects that we can do as a family. And the projects have happened in many shapes and sizes over the years!
We've done small projects, like helping with invitations, food and setup for a neighborhood party. We've done fun projects like a play-a-thon, for which we partnered with Hasbro to raise money for temporary housing for families displaced by Haiti's earthquake.
We've done holiday projects, like our trick-or-treat charity bike parade. We decorated our bikes in Halloween style, and went "trick-or-treating" to collect healthy snacks to share with school children in need.
We've done big projects, like hosting a Rockin' Readers Literacy initiative at our elementary school. We've done long-term projects, like helping at a mobile food pantry to collect, sort and distribute an entire semi-truck of food to needy families in our community.
We've done yummy projects, like partnering with Cupcake Kids to raise $300 for imprisoned children in Africa. We've done active projects, like the Pleasant View Kids Triathlon, where the children challenged their friends to complete a triathlon over the course of the summer.
It doesn't have to take a lot of extra time. Find out what your kids love, and create volunteer projects that match with their interests, skills and passions. Eleven-year-old Daniel especially enjoys projects where he can organize. Eight-year-old Brendan loves raising money to give to favorite causes. Seven-year old Anna Kate loves projects related to arts and crafts. I enjoy finding out more about my children as we volunteer together.
And don't be afraid to have fun while you volunteer – have a charity skate night, bake together at the Ronald McDonald House, host your own play-a-thon, build something for another family or do a fun run together. Volunteering can create great opportunities for making memories, building relationships and learning to love others.
Ann Saylor's family, of Tennesee, again came together to volunteer on Nov. 23 for this year's Family Volunteer Day. Disney Friends For Change, a Disney initiative dedicated to inspiring kids and families to make a positive change in the world, was the presenting sponsor of Family Volunteer Day 2013. Embassy Suites was a supporting sponsor. Find out how your family can make a difference this holiday season by visiting generationOn.org.
Share this post