This post is by Tracy Hoover, president of Points of Light.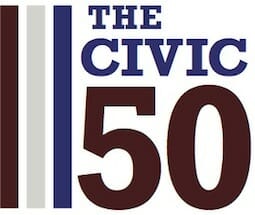 Today, Points of Light, the National Conference on Citizenship and Bloomberg announced The Civic 50 – the 50 most community-minded companies in the nation. (See list below.)
The Civic 50 sets the standard for corporate civic engagement nationwide and creates a roadmap for S&P 500 companies seeking to best use their time, talent and resources to improve the quality of life in the communities where they do business.
Please take a moment to celebrate these companies for their great and continued efforts. And as the holidays approach, I hope you'll put your money where your values are and use your purchasing power to support all the companies that are doing great work in their communities.
To learn more click here.
2013 Civic 50
3M
Abbott
AbbVie
Adobe Systems
Aetna
Alcoa
Allstate
Altria Group
Ameriprise Financial
Apollo Education Group
AT&T
Bank of America
Baxter International
Campbell Soup
Capital One Financial
Citigroup
Comcast
Devon Energy
DIRECTV
Discover Financial Services
Dr Pepper Snapple Group
Ecolab
FedEx
Freeport-McMoRan Copper & Gold
Gap
General Electric
Hasbro
Hershey
Hewlett-Packard
IBM
Intel
KeyCorp
Life Technologies
McGraw Hill Financial
Microsoft
Morgan Stanley
NRG Energy
Pacific Gas & Electric Company
Raytheon
Sigma-Aldrich
Southwest Airlines
State Street
Total System Services
UnitedHealth Group
United Parcel Service
Valero Energy
Viacom
Wal-Mart Stores
Western Union
Weyerhaeuser
Share this post