From Combat to College: Helping Veterans Transition
For many veterans, transitioning from active duty back to civilian life begins on a college campus, where they can receive the additional training and educational foundation they need for success. And you can help.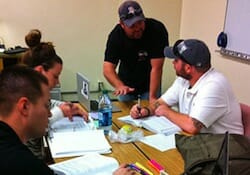 Points of Light Military Initiatives is proud to partner with the Corporation for National and Community Service and the U.S. Department of Veterans Affairs to launch a new AmeriCorps service program: VetSuccess on Campus.
For this program, Points of Light Military Initiatives will soon begin recruiting 20 AmeriCorps members to serve on 10 college campuses across the country. These members will help Veterans Affairs counselors provide student veterans with services and resources to ease the transition to college life. VetSuccess on Campus will also offer career development guidance and access to health benefits.
Here are the 10 participating schools:
Cleveland State University
Community College of Rhode Island
Portland State University
Rhode Island College
Salt Lake Community College
Texas A&M University, Central Texas
University of Alaska, Anchorage
University of Michigan, Ann Arbor
University of Texas, San Antonio
University of Utah
Interested in learning more? Contact Raleigh Keagan at [email protected].
Share this post