Gov. Chris Christie and Fellow Honorees Shine at Points of Light Tribute Awards
Under the glass ceiling of the Italian Embassy, with strings of light shimmering overhead, about 300 people came together Friday night to celebrate the winners of the 2013 Points of Light Tribute Awards.
Guests at the Washington, D.C., gala included elected officials from the Democratic and Republican parties, athletes, entertainers, corporate and nonprofit leaders and media figures.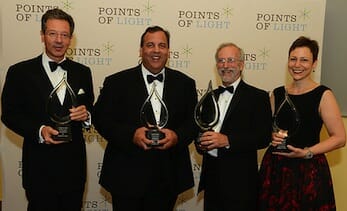 New Jersey Gov. Chris Christie, one of the four honorees, accepted his award by expressing gratitude to volunteers.
"Thank you all for what you do every day," said Christie, who was recognized for his role as a tireless advocate for New Jersey citizens dealing with Hurricane Sandy's devastation. "People around this entire country never know when we're going to need you. But when we do, it's an extraordinary relief to know that you'll be there to help people in need."
The other Tribute Award winners included a cancer survivor serving cancer patients with children, a nonprofit fighting hunger and a corporation helping communities:
Amy Paterson, as a young mom fighting breast cancer, found it tough to get sitters for her toddler son during her medical appointments. She's making it easier for others with My Little Waiting Room, the nation's first drop-in hospital child care center, in Portland, Ore.
AmpleHarvest.org connects 40 million Americans who have excess food in their gardens to local food pantries that serve the hungry in all 50 states. (The nonprofit's founder Gary Oppenheimer accepted the award.)
Citi, the leading global bank recognized by The Civic 50 as one of the nation's most community-minded corporations, mobilizes its business resources and human capital to expand financial inclusion, strengthen communities and advance environmental sustainability. (Francesco Vanni d'Archirafi, CEO of Citi Holdings, accepted the award.)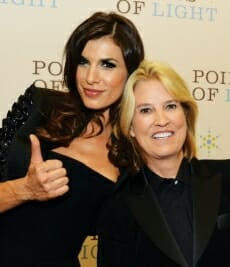 Greta Van Susteren of Fox News and Italian actress Elisabetta Canalis emceed the Oct. 11 event, hosted by the ambassador of Italy, Claudio Bisogniero and his wife, Laura Denise Bisogniero. Acclaimed singer Pia Toscano, best known for her impressive debut on "American Idol," serenaded the guests with her signature hit, "I'll Stand by You."
A live auction raised money to help Points of Light fulfill its mission of helping volunteers serve their communities. (Through Oct. 31, you can participate in an online auction at www.biddingforgood.com/pointsoflight/tribute.)
Points of Light Tribute Awards are presented annually to shine a national spotlight on the best of those who represent what it means to be a "point of light."
Neil Bush, Points of Light's board chairman, praised the awardees for exemplifying what his father, President George H. W. Bush, sees as the nation's strengths – people who serve others and a "respect for the goodness that makes this country great."
Share this post