Conference Close Ignites Call for Change
At yesterday's closing plenary of the Conference on Volunteering and Service in Houston, the message was clear: Be disruptive.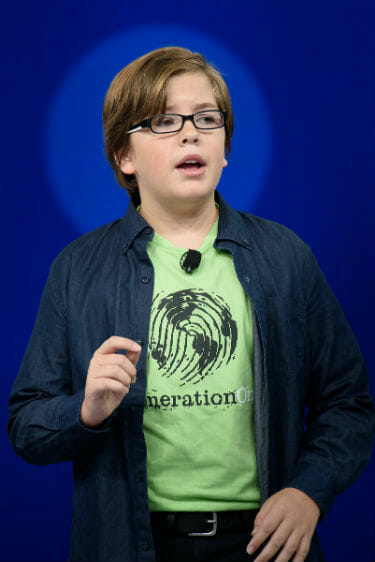 After delivering an interactive, spoken-word performance, Grammy Award-winning poet J. Ivy urged attendees to "disrupt the status quo," adding, "Being a change maker is about finding a course, igniting a spark and inspiring others to stop and take notice."
One such change maker – Gabe Eggerling, who was inspired to serve after "reading a funny story to a little girl who told me that she didn't have one book at home." The experience moved Gabe, now starring in an Amazon Prime pilot called "The Kicks," to create Mission: HERO (Helping Everyone Read Outloud), work for which he became a Hasbro Community Action Hero and a Daily Point of Light Award honoree.
Gabe shared the story of 8-year-old Martin Richard, the youngest victim killed in the Boston Marathon bombing in 2013. Martin's reputation for being a peacemaker inspired the recent Martin Richard Bridge Builder campaign. The campaign – run by generationOn, Points of Light's youth service enterprise – urged young people to spread kindness.
World-renowned chef José Andrés took up a cooking analogy to engage the audience on finding new ways of taking action for the greater good. "Sometimes those recipes, they have been written wrong," said Andres, founder of the humanitarian organization World Central Kitchen. "New recipes must be written if we want to be changing the world."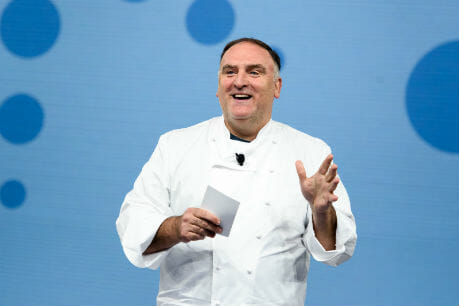 De Andrea Nichols, director of Civic Creatives and alumna of the Points of Light Civic Accelerator, urged attendees to help create a pipeline of young leaders "to steer us into the future" and inspire change. Bill Basl, director of AmeriCorps, echoed that sentiment, calling on attendees to develop more ways for young people to enrich their lives through service.
Majora Carter, a Peabody Award-winning broadcaster who led the transformation of a New York City dump into a waterfront park, encouraged attendees to draw from their "legitimate and unavoidable impatience" to make communities better.
And, before singing a stripped-down version of his hit song, "Sleep When We Die," musician and activist Kenna told attendees "find your crazy" – seemingly impossible ideas that both have personal meaning and do good for the world.
Near the close of the plenary, as Points of Light Chair Neil Bush and CEO Tracy Hoover presented the Daily Point of Light Award to Tyson Gersh, who is transforming a blighted area of Detroit into a thriving urban farm.
Then the announcement about the 2016 Conference on Volunteering and Service – next year in… Detroit!
Earlier in the day, the Business Track focused on the future. "These new 17 (United Nations) Sustainable Development Goals around poverty, hunger, education and gender equality are key to the success of future generations and the health of our planet," said Sue Stephenson from The Ritz Carlton Hotel Company as a leader of the session, IMPACT 2030: Achieving the Sustainable Development Goals Through Employee Volunteerism.
Starbucks, Kaiser Permanente, PepsiCo and Target used their successes and failures to explore their organizational journeys as they evolve in the session led by the purpose guru Carol Cone, From Cause Marketing to Purpose Driven Brands. We are grateful for the generous support from Target as the Business Track demonstrated the immense change-making power of companies and their employees.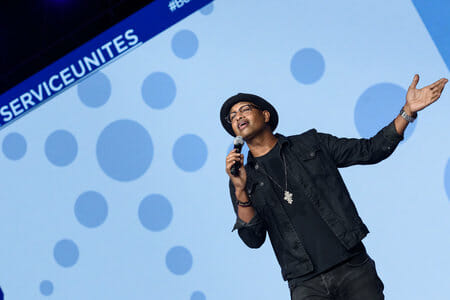 The Together We Serve: Military and Veterans Forum, sponsored by BP, brought together community, military, private and nonprofit representatives for a discussion about how to use service to bridge the civilian-military divide. Ryan Manion Borek, president of the Travis Manion Foundation, spoke about how we can honor the fallen by challenging the living to serve.
Lt. Colonel Brian Gilman, a Marine, noted the need to break the notion of veterans as either "hero or broken." Barry Mattson, executive director of The Mission Continues, and Koby Langley, senior vice president at the American Red Cross both spoke about the misconceptions of veterans, stating that every vet needs time to get to their "new normal."
As we say goodbye to Houston, we're planning to see you at next year's Conference on Volunteering and Service in Detroit!
What was your favorite part of the 2015 Conference on Volunteering and Service? Tell us on Facebook or Twitter.
Share this post