Congratulations to Karen and Ray Stark, Winner of Our Facebook Tribute Contest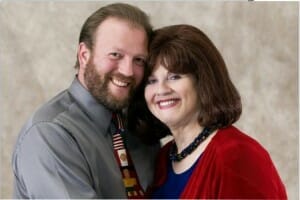 As the date for "All Together Now – A Celebration of Service" approaches, we are thrilled to announce the winner of our Facebook contest, Karen and Ray Stark of Edmond, Okla.
Looking for a way to support U.S. troops and improve their quality of life as they complete their important mission of freedom, Karen and Ray found their own mission when they created The HUGS Project in May 2004. This nationwide troop support group creates cooling neckties, nicknamed "hugs" since they go around the neck. These neckties can reduce body temperature by five degrees or more, effectively saving many of our troops from heat stroke deaths. As a bonus, they can also be heated in winter to make reusable hand/pocket warmers.
In the winter, The HUGS Project volunteers crochet, knit, loom and sew warm wool hats, neck warmers and fingerless gloves for the troops. They also make and send colorful hats, small stuffed bears and bags filled with school supplies that service members can share with Iraqi and Afghani children. To date, the HUGS Project and its dedicated members have sent more than 818,000 "hugs," more than 175,000 "kisses" (helmet coolers) and more than 346 tons of care package items.
Today, The HUGS Project is in every state of our nation and more than 49 other countries, with 2,700 online members and thousands more who do the project either individually at home or through 4-H Clubs, home school groups, quilting circles, Sunday school classes, etc., as well as "group hugs" held nationwide.
The Starks and members of the Oklahoma City group have donated 20 sewing machines to a prison outreach program so that the inmates can help by making items such as neck pillows and Christmas stockings. The HUGS Project even manages to serve as a lifeline for military families who report that sewing cooling neckties or knitting warm items make their loved ones' deployment a little more bearable.
Karen said that by being involved with The HUGS Project, many military families are able to focus their energy on creating something tangible to help the troops and, in the process, help themselves.
Share this post