Creating a More Vibrant Canada Through National Leadership on Volunteer Engagement
American Express Canada employee volunteers plant trees with Ontario Streams, a nonprofit dedicated to environmental conservation. In communities across the country, Volunteer Canada convenes and collaborates with volunteer centers, nonprofits, businesses, governments and educational institutions to create powerful tools for citizen engagement.
Volunteer Canada is at the forefront of providing nationwide leadership centered on volunteer engagement and is a member of the Points of Light Global Network. It convenes and collaborates with volunteer centers, nonprofits, businesses, governments and educational institutions to create powerful tools for citizen engagement. In the midst of an ever-changing world and political shifts, the organization works to increase the participation, quality and diversity of volunteer experiences that build strong and connected communities.
Since its founding in 1977, Volunteer Canada, has provided national leadership and expertise for organizations and volunteers alike. It identifies common community issues, and seamlessly mobilizes the knowledge of experts to produce learning tools that help build stronger communities. With a network of 220 local volunteer centers, the organization helps promote volunteering, connect people with opportunities to volunteer, build organizational capacity and provides leadership around relevant issues.
With a deep focus on research and policy, Volunteer Canada has conducted several studies centered on volunteerism and the constantly evolving volunteer landscape. Its Bridging the Gap study addresses a growing gap between what volunteers look for and the opportunities organizations offer. The organization understands what motivates today's volunteers: they're mobile, have goals, are driven by results, self-directed, have multiple interests and often seek short-term opportunities that use their skills.
To better understand these motivations and emerging trends, the organization has also worked alongside Statistics Canada to give insights into the state of volunteering in Canada. Their latest data on giving, volunteering and participating in Canada found that Canadians volunteer an average of 154 hours per year, and that 82 percent of Canadians volunteer informally, helping people directly without the involvement of an organization or group. Youth are more engaged than past years, with 66 percent volunteering an average of 110 hours per year, and 38 percent of adults aged 55 and up continue to volunteer the most hours – 220 a year on average – out of any demographic.
In order to portray the social and economic value of volunteering to organizations, businesses and individuals, Volunteer Canada created the Value of Volunteering Wheel. This tool illustrates the many benefits of volunteering, including building confidence, competence, connections and community.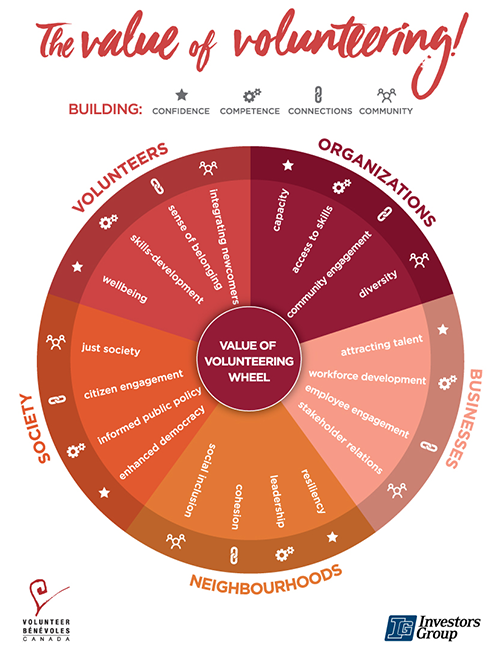 By developing its wide network of partners and resources, the organization has seen volunteer centers evolve in their leadership roles, which has led to increased volunteer involvement across Canada.
"I see volunteering as a form of social inclusion and participation in neighborhoods, communities and society, so that the places we live reflect our values," said Paula Speevak, president and CEO of Volunteer Canada.
The organization also looks for ways to make an impact beyond its national borders. It has adopted the 17 UN Sustainable Development Goals to mobilize global efforts to improve social, economic and environmental conditions around the world. The organization is looking at the degree to which Canadian volunteers are already contributing to the SGDs, and what volunteer contributions may look like in the future.
Volunteer Canada also provides a variety of resources, services and supports to help companies adopt gold standard corporate community engagement programs. The Business Case for Giving Back report, for example, summarizes key findings from the largest survey of Canadian employees to date on the connection between their levels of engagement with their workplace and their employer's commitments to community.
The organization organizes the country's National Volunteer Week each year in April, a weeklong celebration to thank and recognize volunteers and celebrate the impact of volunteer service. This year's theme was The Volunteer Factor – Lifting Communities, highlighting the exponential impact of volunteers and the ways they lift communities.
"Volunteering is such a beautiful, free spirited act of generosity," said Paula. "There's a component of giving to the community, however I see volunteering as shaping the community you live in. It's having your voice and having your space."
Want to get involved in your community? Find a Points of Light Global Network affiliate near you.
Share this post