Days of Service Spark Commitment to Volunteering Among Belk Employees
Belk's plan was ambitious – 125 days of volunteer service to celebrate the department store chain's 125th anniversary.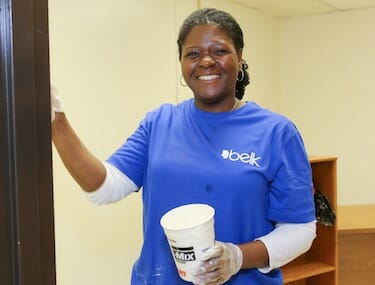 Nicole Dean, Belk's vice president of internal audit, participates in a day of service at Reid Park Academy In Charlotte, N.C.
"Giving back to and being involved in our communities has been a part of our DNA since our founding in 1888," said Jessica M. Graham, vice president of communications and community relations for Belk. "We have a rich history of supporting our local communities and of encouraging our associates to get involved."
The 125 Days of Service events last year – 8,000 associates participating in 304 projects at schools in 16 states – helped deepen that commitment and forge relationships that have lasted beyond the endeavor.
The idea was "to not only do a one-day project, but to continue those ties after the 125 days were over," said Eric Law, executive director of Hands On Charlotte. The organization, a local affiliate of Points of Light's HandsOn Network in Belk's North Carolina hometown, helped plan and carry out the 125 Days of Service program.
Hands On Charlotte helped identify schools that needed improvements and were near Belk stores, and they worked with principals to design projects that met the schools' most pressing needs.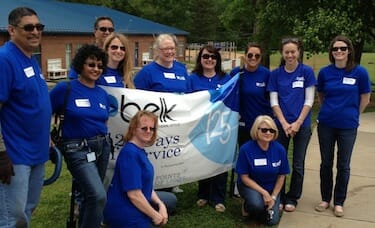 Belk volunteers gather for a day of service at Ashley Park PreK-8 School in Charlotte, N.C.
"What we were looking to do was to make it a better place to learn and a better place for teachers to do their jobs," Law said.
Belk employees signed up for two-hour shifts to work at the schools, though some of them went back to help out on their own time, Law said.
The 125 Days of Service project was the catalyst for forging a deeper relationship between an Alabama school and the Volunteer Center of Morgan County, the local HandsOn Network affiliate, as well as solidifying the center's ongoing relationship with Belk.
The center helped managers from the Decatur, Ala., Belk store plan their service day at Austinville Elementary School, where many students come from low-income households. Belk associates delivered 300 to 400 books they had collected during an in-store book drive. Employees built bookshelves and picnic tables and painted murals, among other projects at the school.
While the Belk employees worked, the children sang songs and started reading some of their new books. Some of the kids even helped employees build picnic tables.
As a result of that day of service, several of the employees remain involved with the Decatur schools, said Heidi Parkhurst, who was store manager of the Decatur Belk at that time.
"It just really inspired them to continue their volunteer work," said Parkhurst, now store manager at a Huntsville, Ala., Belk.
The Belk event at Austinville Elementary led to an ongoing relationship between the school and the Volunteer Center of Morgan County that has encouraged children to volunteer. The students participated in a can-a-thon the center and Belk conduct each year, collecting food to be donated to a food bank, and have been involved in a community garden and a drive to get restaurants to donate leftovers.
Some of the students and their parents also attended a summit on childhood hunger that the center organized, and several have toured the center to see the operation first-hand, said Kay Woller, the center's executive director.
As the work at Austinville Elementary has been so well received by the school, students and Belk associates, Belk asked the volunteer center to plan a similar day of service project for a Cullman, Ala., school, probably in January, Woller said.
Going forward, Belk is continuing to build on the relationships the company made during the 125 Days of Service. This fall, Belk associates learned more about developing and leading volunteer projects for their stores by participating a Points of Light volunteer leader training webinar. They also received tactical and practical tips through a new quick reference guide.
And, in early 2015, HandsOn Network affiliates will develop and manage school-based projects for Belk associates in five regions.
"This year we are implementing a fundraising campaign during the holiday season that will benefit local schools in all of our markets – many of the same schools that we partnered with last year," Graham said, adding that the department store chain this year launched a tracking program, Belk Associates Give, to keep up with volunteer work by its employees.
Law, of HandsOn Charlotte, said that when Belk employees give their time, even for just a day, it matters: "A lot can be done in a one-day service project."
Share this post