Let's Disconnect to Connect this Holiday Season and Teach Kids the Value of Caring
This post is by parenting expert Dr. Michele Borba and Daniel Horgan, executive director of generationOn, Points of Light's youth and family division.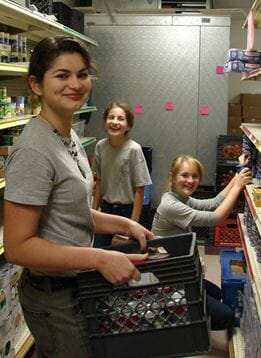 The Miscoe family of Texas help at a food pantry.
While parents are consumed with their iPads and phones, their children are modeling their actions by being engrossed in games or listening to their music on their own handheld devices.
When asked about their parents' chatting, clicking and texting during a recent "Dateline" report, kids complained about feeling like they didn't matter as much. Families may be physically together these days, but they are often disconnected from each other and the community around them.
The holiday season is a perfect time to disconnect from the distractions around us and connect with our families through service to others. That's why I am partnering with generationOn, the youth and family division of Points of Light, and Disney Friends For Change to invite thousands of families around the country to serve on National Family Volunteer Day on November 22.
There are many ways to take part – from creating baskets of cheer for the elderly to providing Thanksgiving meals to those in need to making cards for children in the hospital.
Volunteer and then share your service story for a chance to win one of several exciting generationOn prize packages and be featured in FamilyFun magazine. You can learn more, explore project ideas, and search for local volunteer opportunities at www.generationOn.org/fvd.
Most parents instinctively want their children to develop a strong moral character and to care about others. Volunteering is a powerful way to teach kids valuable real life lessons about empathy and caring.
Caring is the trait that helps sensitize our children to different points of view and it increases their awareness of other's ideas and opinions. It also enhances empathy, which is the foundation of moral behavior. Kids who care will grow into adults who have the skills they need to live successfully in our diverse, multicultural, 21st century world.
Here are five tips to raising caring kids…
1. Be the change you want to see.
You know what makes kind and considerate kids? Kind and considerate parents! The simplest and most powerful way kids learn behaviors like kindness and consideration is by seeing them in action.
In fact, parents are one of the biggest influences on whether their kids volunteer. Parents can lead by example, talk about important social issues and urge their children to donate their time and money to causes important to them.
2. Prioritize regular, meaningful time with your kids.
Plan regular, emotionally intimate time with your children. Some parents do this through nightly bedtime reading or building one-on-one time with their children into their weekly schedules rather than leaving it to chance.
When together, take turns asking each other questions that bring out your thoughts, feelings and experiences such as what was the best or worst part of your day and what did you accomplish today that you feel good about.
3. Make caring for others a priority.
Consider the daily messages you send your children about the importance of caring. For example, you might say, "The most important thing is that you're kind and that you're happy."
When your kids run into conflicts with other kids, encourage them to work out problems by considering the others' feelings. Ask your kids' teachers and coaches about how they are demonstrating empathy for others in addition to their academic skills, grades or performance.
4. Nurture an attitude of gratitude.
Consider making expressing gratitude a daily ritual at dinnertime, bedtime, in the car or on the subway. Encourage children to express appreciation for family members, teachers, friends or others who contribute to their lives.
Have your kids keep a gratitude journal where they log the things that they appreciate each day. Give your kids opportunities each day or week to practice caring at home, at school or in extracurricular activities.
5. Get your kids to give back.
Children learn habits at an early age, and the best way to teach them behavioral life skills is to get them involved in a hands-on way by doing caring deeds. Help your child chose a charity or cause that he/she is interested in and then get them involved.
Explore the cause further by reading a children's book about the issue, meeting with an organization to learn more about their work in addressing the issue, or brainstorming a family volunteer project to do together.
Be sure that you are intentional in your quest to raising a caring child, and check out www.generationOn.org/fvd for more resources and ideas to connect this holiday season!
This essay originally appeared in the Huffington Post.
Share this post