Fast Company Highlights PwC, Points of Light Initiative to Support Women Entrepreneurs
Fast Company magazine ran an exclusive today – the first Women's Entrepreneurship Day – about a new initiative to boost women entrepreneurs.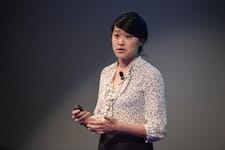 Andrea Lo, cofounder and CEO of Piggybackr, represented Points of Light's Civic Accelerator at Women's Entrepreneurship Day at the United Nations.
With support from the PwC Charitable Foundation, Inc., Points of Light will select the next group of entrepreneurs to benefit from its Civic Accelerator with a gender lens, selecting only startups that help women and girls gain equal access to opportunities. The majority of these ventures will be led by women founders.
Click here to read the Fast Company article.
The Points of Light Civic Accelerator is the first accelerator program and investment fund in the country focused on "civic ventures" – for-profit and nonprofit startups that include people as part of the solution to critical social problems.
The three-month, boot camp-style program convenes 10-15 teams in person and online with the goal of equipping each startup to seek investments and scale their social innovations.
The Civic Accelerator was launched in 2012, in partnership with Village Capital, and receives generous support from PwC Charitable Foundation and Starbucks Foundation, both founding partners, and from the Blackstone Charitable Foundation, SAP, The Committee For Children, and the official hotel sponsor, Hilton Worldwide. For more information, go to www.civic-x.org and follow @PointsofLight #CivicX.
Share this post