Do Your Kids Have This Crucial Ingredient for Learning to Read?
This post is by Madeline S. Collazo, AmeriCorps VISTA program associate at the Jewish Coalition for Literacy in San Francisco. Collazo is serving through Corps18, a Points of Light program that supports VISTA members addressing chronic absenteeism across the country.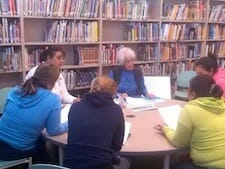 Joan Green, center, a Jewish Coalition for Literacy reading specialist, meets with parents at North Shoreview Elementary School in San Mateo, Calif.
When I was a little girl, my favorite time of day was story time. After I got ready for bed, I would pick out one of my favorite books. My mother would then read aloud as I listened and drifted off to sleep, cocooned in stories of dragons and princesses and children who would not eat their vegetables.
I remember my excitement the day I looked down at the page and discovered I could read the words along with my mother, the stories I loved leaping off of the page.
For many children, there is no story time. The only exposure they get to reading is in the classroom, and for many, this simply isn't enough. Boosting reading skills at a young age is crucial for future success and, in order for students to get the most out of school, they should also have reading support at home.
My current position as an AmeriCorps VISTA at the Jewish Coalition for Literacy is focused on parent and community engagement; my top priority is organizing and facilitating workshops for parents who want to practice basic English vocabulary, pronunciation and structure so that they can read books at home along with their children. Since September 2013 alone, JCL conducted more than 100 parent workshops in public schools across the San Francisco Bay Area, helping communities that are often marginalized and underserved.
Phyllis Harrison, principal of North Shoreview Montessori School in San Mateo, Calif., and longtime JCL partner, believes that JCL's parent workshops have a multigenerational effect on families, benefiting the parents who come to the workshops, their children who now benefit from a reading-friendly home, and consequently, future generations in the family.
"By coming to their child's school every week, parents need and want to know that North Shoreview is their child's home away for home," Harrison told me.
Parents love the workshops as well, which provide them with the skills they need to help their children excel. Mothers, fathers and guardians are their children's first teachers, and the most trusted people in their sons' and daughters' lives.
Sara L. Gomez, who faithfully goes to JCL's Reading Together in English workshop every Tuesday morning at an elementary school in San Francisco, said: "I love to learn English so that I can help my daughter." Dina Estevez, another regular at the Tuesday session, added that "it is very fun and we practice a lot of English."
It is thanks to this enthusiasm and growing interest that JCL's workshops are developing a new cadre of parents committed to their children's reading success, and to creating supportive home reading experiences. Together, we are making story time the new favorite time of day.
Are you in the San Francisco Bay Area and interested in inspiring a young reader? Check out www.jclread.org. To find similar opportunities across the country, visit All for Good.
Share this post