Points of Light Conference 2023: Empowering Changemakers in Civic Engagement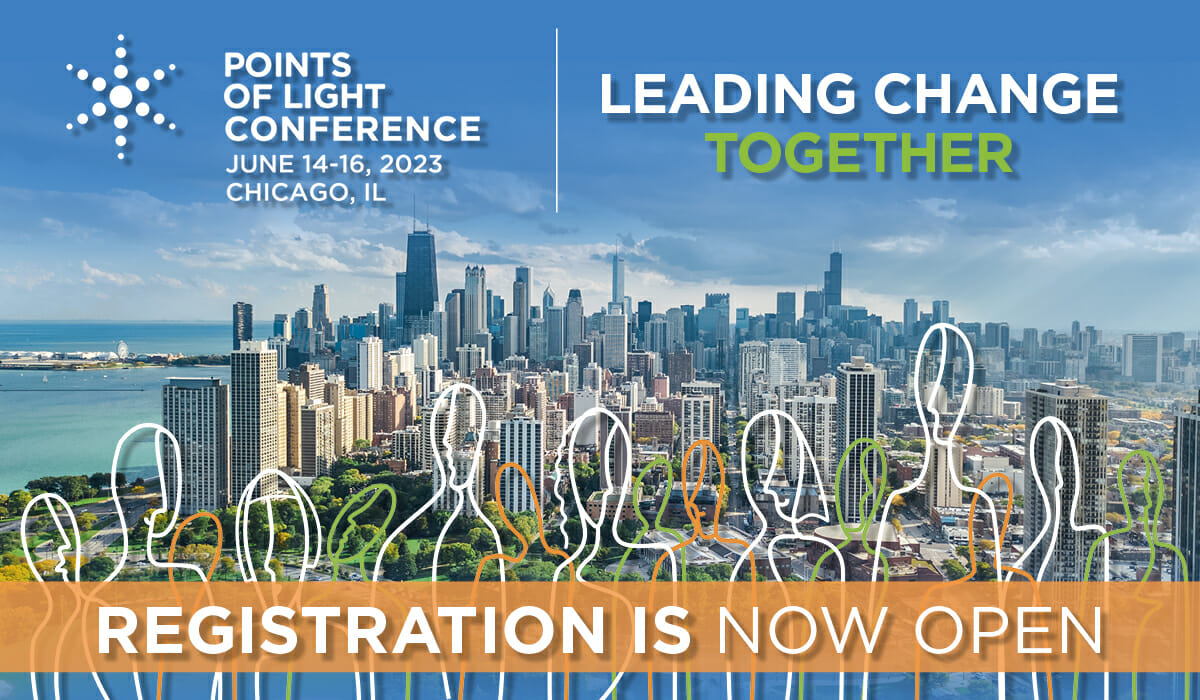 The Points of Light Conference 2023 is a gathering for changemakers, like you, who are passionate about civic engagement. It empowers nonprofit, NGO, government and business business leaders to make a bold impact in their communities, providing the resources and inspiration to do so.
But how specifically will this year's conference – taking place in Chicago June 14-16, 2023 – tailor its content to meet each of these audience's needs? Read on to learn more.
An Inside Look From Our Conference Planners
Our planning team works year-round on this innovative event. So we sat down with them to get a deeper look into the thought and insight that makes the Points of Light Conference the leading event for social impact leaders from around the world.
1. What are you most excited about as you've helped plan the content for this year's conference?
This year's theme, "Leading Change Together," exemplifies everything that so many of us have dedicated our lives to doing. I'm excited about the richness of the content and activities we're planning that offer deep learning about the ways that civic engagement advances social good. From moving keynotes and performances, to workshops, to intentional networking, to showcasing Chicago's vibrant history and culture, the conference experience is a trifecta of inspiration, education and connection.
2. What will NGO attendees gain from conference?
This year's conference is a drumbeat toward the expansion beyond volunteerism to include multiple avenues of civic engagement. Attendees will hear from leading voices in areas such as disaster resiliency, grassroots advocacy and volunteer programming. In an increasingly interwoven social sector, where a single challenge is multi-faceted, attendees will learn about best practices focused toward issues such as health equity and social sector leadership.
3. If you could recommend one session that nonprofit and NGO attendees shouldn't miss, what would it be?
Climate change is already having an impact on our communities pushing us to reconsider strategies for resiliency and community sustainability. Disaster work gets at the core of what it means to address challenges via an equity lens. One of our Civic Talks will feature some of the leading voices in preparedness and response to disaster via an equity lens.
4. What insights will corporate attendees walk away with?
This year's conference is the optimal opportunity to learn from peers and experts in corporate citizenship. In fact, I highly encourage leaders to consider bringing multiple members of your social impact team because of the diversity in workshops geared toward businesses — you simply can't be everywhere at once! Some of the themes that attendees will learn more about include advancing equity through civic engagement, connecting skill-based volunteering with talent development, measuring the business and social impacts of both volunteering and giving, board service, and developing and strengthening public-private partnerships to achieve progress – just to name a few!
5. Tell us about one session that is especially compelling for corporate attendees.
One session that I am particularly excited about is led by our partners at True Impact and is centered around measuring the social impact of a company's CSR strategy without overburdening nonprofit partners. We know that, over the past three years, there has been a movement toward trust-based philanthropy with a company's grantees and nonprofit partners while CSR leaders are also feeling intense pressure to prove and improve the return on social investments. Although these two things may seem at odds, there is a way to solve for them through collaboration and by determining actionable metrics and smart data collection methods at the outset. I know by attending this workshop, How to Support Your Nonprofit and NGO Partners While Getting the Data You Need: Impact Measurement in a Trust-Based Philanthropy World, attendees will walk away with new ways of measuring what matters and forgoing what doesn't.
Come to Conference — it's for All Changemakers
Early Bird Pricing
Points of Light is committed to making conference as accessible as possible. That's why we're offering early bird registration for the Points of Light Conference 2023. Reserve your spot today and save an average of $100 by registering before March 31. Pricing starts at just $475 for Points of Light Global Network Affiliates, $575 for nonprofit organizations and $775 for corporate attendees.
Scholarships
Thanks to the generous support of our corporate partners UPS and Citi, Points of Light is offering a scholarship for Black, Indigenous, People of Color (BIPOC) nonprofit professionals to attend the 2023 Points of Light Conference. There are two levels of scholarship available: the Transformational Scholarship awards $1,782 and covers registration, hotel and funds toward travel and the Capacity Scholarship awards $1,382 and covers registration and hotel.
This opportunity is e. It is available to BIPOC individuals at nonprofit 501c3 organizations based in the U.S. with annual operating budget less than $1 million, and applicants must be 18 or older. Priority will be given to organizations with a minimum of two years of public financials, and applications are open through March 31. If you have questions about the application or scholarship, please contact [email protected].
National Service Organizations
The Points of Light Conference supports nonprofit and national service organizations too. In fact, 75% of our attendees are a part of these types of organizations. This year, AmeriCorps' CEO Michael Smith is a featured speaker. Don't miss this opportunity to hear from a top leader and gain the wisdom and inspiration you need to carry your mission forth. With more than 50 educational workshops, inspirational leadership discussions and opportunities to connect with peers, this conference offers something for every champion of social good.
Share this post
---