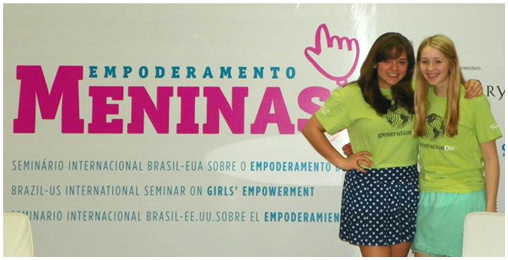 Today's post is written by Rachel Ley, 15, from Stevens Point, WI. Rachel is a founding Youth Advisory Council member for generationOn, the youth service enterprise of Points of Light. She is also the founder of a program called Literacy for Little Ones, which provides newborn babies with book packages, encouraging their parents to read to them on a daily basis.
In early April, I was extremely fortunate to attend the Brazil-US International Seminar on Girl's Empowerment in Rio de Janeiro, Brazil that was sponsored by Partners of the Americas whose mission is to build partnerships that create opportunity, foster understanding, and solve real-life problems. Together with 79 other young women who are change-makers from Brazil, Chile, Mexico, and Uruguay we spoke with government representatives about public policy regarding youth and women, participated in panels and workshops with female executives, and were encouraged to empower young women in our own communities. Although three different languages were spoken, there was no language barrier. We were able to communicate while gaining crucial leadership skills, creating lifelong friendships, and establishing incredible memories.
One of the most impactful lessons I learned from the conference was that in order to make a difference, you need to start small. I have found this to be completely true within my own volunteer work. When I first initiated Literacy for Little Ones, a program that encourages early literacy by distributing book packages to four Wisconsin hospitals, I gathered a group of my closest friends to assist me in assembling the book packages which went to one hospital in my community. Since then, I have engaged over 400 youth to volunteer with Literacy for Little Ones and over 3,800 families have benefited. The program was only able to grow once we created initial momentum, and ever since then the progress has been exponential.
In addition to attending a myriad of workshops and listening to several panels, we were able to tour parts of the incredible city. Rio de Janeiro was the perfect location, as it embodies the same change that we were talking about at the seminar. The once struggling city is now building to hold the 2014 World Cup and the 2016 Summer Olympics. It was inspiring to hear about the past of Rio de Janeiro and learn about the new developments they are implementing to create such an amazing city.
As I returned to the Minneapolis – St. Paul International Airport, I felt inspired and empowered. I am confident that I will continue to make a change in my own community and engage more girls than ever before to do the same. Attending the Brazil-US International Seminar on Girl's Empowerment was a life-changing experience that has left me ready to lead the movement of the girls in my generation.
With the help of a Hasbro Make Your Mark Week grant, Rachel expanded her program to a second Wisconsin community in 2011 and then expanded to a third in 2012 as part of generationOn's Community Action Heroes Needed initiative. In three years, over 3,800 babies have received book packages and some 400 Central Wisconsin youth have been inspired to become involved in the effort. Rachel has garnered many awards for her commitment to service including being named a Prudential Spirit of Community State Honoree, a Kids Who Care Regional Recipient and an NEA Leader for Literacy.
Share this post